.
Auto Post your Blog in Facebook and Twitter without using a plugin the (Easy way)
Social Networking sites like Face Book and Twitter are one of the best platform to connect your blog and increase traffic. Your Blog is your Passion, just publishing your blog to your hosting site is fine. If your Blog is very popular and have reasonable visitors everyday, that's fine.
The best way to get your blog seen and increase blog traffic, is to post excerpts of your article to these immensely popular social sites Face Book and Twitter. But than how do you go about it? Automating this process, like auto post your blog in facebook and twitter. Wont that be nice ?
So how do you automate this process ? There are lot of plugins for a word press blog to do this. But I don't think there's any for the Blogger blogs (BlogSpot). But even with the plugins that are available for the word press, you still need to create a Facebook App and ID to make these plugins to properly setup and work. Which is sometimes confusing (At least to me it was)

. Besides, is it really necessary to use plugins for everything? plugins can choke your site loading time too.
So, here's a very easy and simple way to set up this process. Auto Post your Blog in Facebook and Twitter, without you needing to do anything after the setup is complete, which will take less than a minute.
Networkedblogs does this for you, and best of all it's a FREE service.
Step 1: Go to this site www.networkedblogs.com and log in with your existing Facebook credentials. After logging in at the top click on "Register a new Blog" and you will get this window.

Under the blog link box enter the full URL of your blog (whether self hosted or free platform) than click on next, and you will be presented with this window.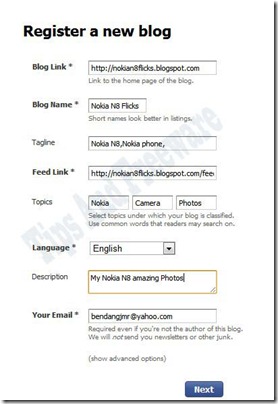 Step 2: Under the "Register a new Blog" fill in all the fields properly and than click on NEXT. you will get the following.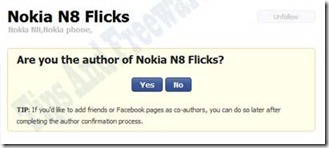 It will ask you "Are you the author of this Blog" (can't blame them its obvious), just click "yes" and you will be taken to this screen.

Step 3:  They want to be doubly sure so they need to confirm that you are the real Author. Here you are presented with two options "Ask friends to confirm" or "Install the widget", why bother a friend for this so choose "Install the widget" and you will be presented with this.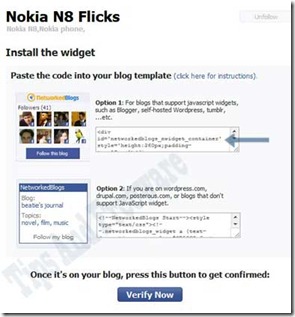 Step 4:  Here you will presented with two sets of code for different types of Blog hosting Platforms, these are self explanatory, so I am not going in details here. For a Blogger Blog you can copy the code, go to your blogger layout section, add a HTML widget and paste the code. You can place the widget in your side bar or footer.
For a wordpress blog, you can add a TEXT widget and paste the code provided. The only advantage of pasting this code is that it creates a "Networkedblog follower" widget on your blog page so your readers can follow your blog just by clicking on follow this blog. (Not bad either). After you paste the code click on the "Verify now" button.
The Problem occurs here (in my case it did) once you click the verify button, it says "Failed to Verify your Blog", once that happens you are back to square one. I have no explanation for this, even though the widget was correctly displayed on my blog page as you can see, still it couldn't verify.(strange indeed)
But, nothing to worry, there's a shorter way to do, On the same window at the top left side you will see few more options like this, by now your Blog thumbnail is already displayed, and below that, of the three options click on the "Syndication" as shown below.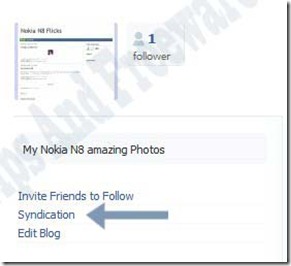 Step 5:  Once you click on the Syndication link you will get the following options. we are almost done.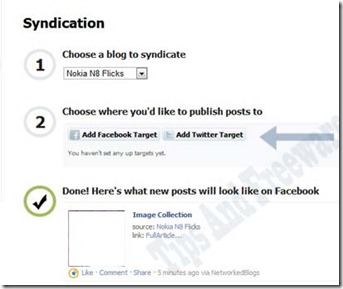 Here you will see your Blog name is already there in step 1, under the "Choose where you'd like to publish posts to" you will see the options for "Add Facebook target" and "Add Twitter Target" , click one by one and fill out the necessary information's for both and click done.
At the bottom of this page you will be shown "Done here's what new posts will look like on Facebook". In the next step you will be asked whether you want to post a trial post, just click yes. Go to your Facebook page, Log in and Viola your recently published post is already posted in your Facebook page.
That's it. From now on whenever you publish any article in your blog it will be automatically posted in your Facebook and Twitter page. And all your friends circle will see your new posts.This method works very well with both the self hosted blog or free hosted blog sites.
Give it a try. It's a great way of getting your Blog noticed and increase traffic.
Was that helpful or did I miss something? Did you try this or do you know any other alternative better method ? share with us here.
Ben Jamir is the Founder and Author of Tipsnfreeware. He is a part time Blogger, sharing his experience and giving a Helping hand to Home users. You will find here the best Windows Tips,Tricks and quality Freeware.