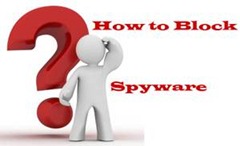 (updated 26 may 2015) How to block spyware.Spyware refers to a kind of software that gets installed on a Computer without the knowledge of the user.
Spyware blocker's are tools that constantly monitors sites that you visit and blocks spyware activities on sites that tries to inject malicious codes.
We must understand that spyware blockers are different than spyware remover. Spyware removal software's scans and removes spyware which is already there in the system.
How to block spyware ?
Spyware blocker is a software that can  prevent spyware and adware from being installed onto your computer in the first place. Spyware blocker can also detect and remove spyware and adware from your computer.
Generally firewalls are used to alert users when this type of software tries to install itself onto the computer. And gives the user a choice on whether or not they would like it installed.
How to block spyware : how spyware blocker help your computer?
If you are using a firewall on your system, they can actually prevent spyware and adware from getting onto your computer. Which means you need to be careful when the Firewall software warns you of any un-natural activities.
So obviously prevention is always the best way to go when it comes to spyware, adware, and any kind of computer virus. You will be much better off if you can stop it from getting onto your computer in the first place. Scroll down for more on How to block spyware.
How spyware affects your computer :
Spyware infections are one of the major threats with online surfing. You may be doing your own thing in the Internet and without your knowledge someone else can be following your every move.
Spyware's can be extremely dangerous as it monitors your on line habits. In this article I will talk a little more about spyware and how to block spyware from getting onto your computer.
As a matter of fact some are harmless, like advertisement, adware that come with certain trial or demo version of software's. But  most types of spyware can be very dangerous and can pose a threat. 
 How to block spyware ? better still use  Spyware blocker software.
Spyware Blocker a freeware enables administrators to block spyware at the network gateway before it reaches users desktops. No client installations and an easy to understand GUI make it easy for administrators to:
Protect users from browsing malicious websites that install malware

Scan network traffic to block spyware before users can install it

Ensure that signatures are always current with automatic updates
Visit this site for more details.
Download the FREE Spyware blocker software.
Ben Jamir is the Founder and Author of Tipsnfreeware. He is a part time Blogger, sharing his experience and giving a Helping hand to Home users. You will find here the best Windows Tips,Tricks and quality Freeware.