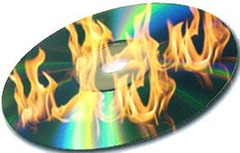 How to Burn ISO Image in Windows 7, without  a ISO burner software ? In earlier versions of windows to burn a ISO image file we needed to install ISO burner software like ISO buster, Imageburn etc. In windows 7, you can burn ISO image file t0 CD or DVD, without the need for a third party software.
WHAT IS ISO FILE IMAGE ?
An ISO Image is an archive file of an optical disk like a CD or DVD. This is a type of disk image which contains all the content of every written sector of an optical disc. Including the optical disc file system. ISO image files usually have a file extension of .iso. An ISO Image file contains the entire contents of a disc and can be perfectly represented in a single ISO file.
BENEFITS OF ISO IMAGE FILE:
There are many benefits of an ISO file Image. For example you can save your windows operating system disc as an ISO Image file for safe keeping. You can make an ISO image file of one of your popular games, and mount it on a virtual optical drive to play the game, instead of inserting the disc every time you play the game. The advantages are many. But we want to know How to burn ISO Image file in windows 7, without the need for a ISO burner software.
How to burn ISO Image in windows 7 ?
There are many hidden tips in windows 7, but this is one you will love it. Windows 7 has finally introduced this feature that other operating systems have had for many years. Better late than never. The ability to burn ISO images to CDs or DVDs. And it could not be much easier to use this feature.
Just double click on the ISO Image file and windows 7 will show you the following option window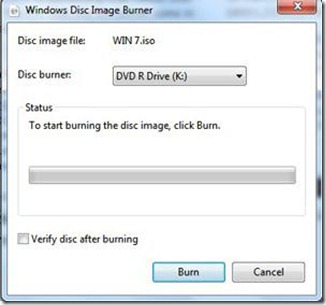 Insert a blank disk, select your optical drive from the disc burner. It will be wise to check the "Verify disc after burning" option. Than click on Burn, and watch your disc burned and created.
That's it, a very useful feature to burn ISO image in windows 7, without any extra software.
Ben Jamir is the Founder and Author of Tipsnfreeware. He is a part time Blogger, sharing his experience and giving a Helping hand to Home users. You will find here the best Windows Tips,Tricks and quality Freeware.