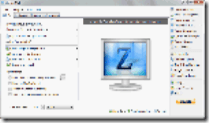 How to capture a screenshot of your Desktop screen and take a image. Every computer user needs a good desktop screen capture utility at one time or the other.To capture a screenshot of your desktop.
Whether you are a researcher, a blogger , a teacher making a presentation, or just making an image collections. The flexibility and the ease of use of these (screen capture) utilities make them much more useful than the full screen capture in windows PrintScr. And helps you to capture a screenshot of your desktop.
Have you ever used the keyboard PrintScr button on your keyboard ? what it does is to capture the whole active screen that you see, and nothing else. Read this post to know more. There is no option to capture a particular portion of the screen.
ZScreen is a advanced open source FREEWARE utility, one of the best FREEWARE to capture a screenshot of your desktop, whole desktop or part of your desktop. Which does practically everything you will ever need to capture a screenshot of your desktop.
This tool ZScreen can take a shot (Capture) of the entire screen, a specific window or a selection you make anywhere on the screen. For anyone who needs to take as many screen shots as I do each day, ZScreen is a real time saver.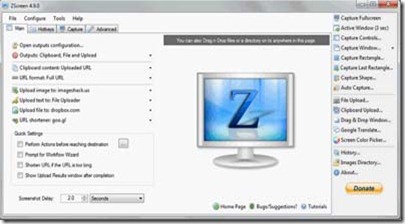 The best and the most useful feature of this utility, is being able to capture a user defined area on the screen. Be it a Image or a potion of a text from a web page. Each action like taking a full screen capture or a particular selected area has a associated keyboard shortcut. This program works with all popular graphic formats.
However the most outstanding feature of this tool, is the way it can handle the captured images. You can copy them to the clipboard, save them as files, send them to your Image editor programs. You can even upload it directly to a preconfigured FTP server or to your online Image hosting servers.
ZScreen as of now supports uploading to Rapidshare, Flickr, Image shack, Tinypic, Twitter etc. That's I feel is quite a list, can't ask for more.
The only downside of this otherwise useful tool, is the program doesn't include any editing tools, for which you may need to use other third party photo editing software. But than, it's a screen capture tool and does its job well.
If you frequently need to capture screenshots of your desktop, look no further, try this free tool
OS : Windows.
Type: FREEWARE.
Size: 2.1 MB
Download the latest version of ZSCreen
Posted By: Ben Jamir
I am Ben Jamir, Founder and Author of this blog Tipsnfreeware. I write about the computers,tested free Software's, Tips, Tricks, Networking, CCTV and Information Technology on this blog. If you like my post /Tips then please like and share with your friends.