How to change the color of Google AdSense Ads to best fit your theme.
Google AdSense by far the best and the most popular AdSense to earn some extra money online (from your blog). Google has its own default AdSense color Schemes for Ads, we tend to overlook the options and select the default color of Google AdSense Ads (AdSense) and copy the code and place it, only to find that the AdSense color don't match our theme and the AdSense stands out as  an odd part of our site. Just follow this tip to change the color of Google AdSense ads to best match your themes color.
I have been searching a way how to change the color of Google AdSense Ads to blend well with my theme or just to make it less conspicuous. There are many articles written on this some were misleading (never ever manipulate AdSense code), some needed me to make some changes in my theme code (which I hate) and some were just too confusing.
On close scrutiny, I found all options were there in Google AdSense page itself. Yes you got it right, all options from changing the background color to text color and text link color are there. How could I have missed that all along. I am sure many bloggers with AdSense must have missed this like me, so sharing this post.
How to Change the color of Google AdSense Ads (background, text )
First Log on to your Google Account and click on the tab My ads.

The next window will display all your AdSense IDs currently active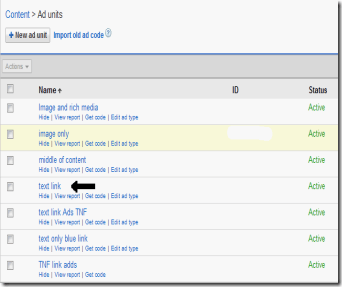 On this windows " Content > Ad units" select and click on the name of the Ad unit you want to modify. And will get this option.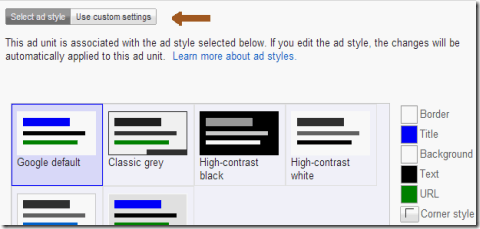 Here click on the "Use custom settings" and you will get the following options.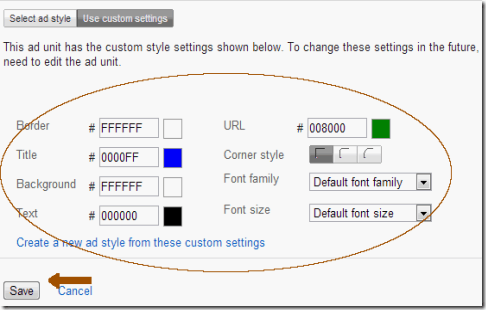 The Above says it all. you get all the options to change the color of Google Adsense ads, to display Ads on your site. You get the options to change the border, Title color, Background color, Text color, URl color etc. You can also change how a Ads corner style, Fonts and even the font size too. After changing all options don't forget to click on the "Save" button.
Now Go back to your AdSense page again select the Ad you just modified and click on "Get code", copy the code and paste it where you want the Ads to display.
That's it . As simple as that to change the color of Google Adsense ads, that are displayed on your site to make it more pleasing and increase blog readers CTR.
I hope this post will help many Bloggers specially the new bloggers trying to find a way to customize Google AdSense. The very obvious I missed, so you don't miss.
Good Luck and Happy Blogging.
SUGGESTED READING:
1. How to Maximize Your Blogs earning with AdSense.
2. Tips for Best Google AdSense Placement.
3. Best Google AdSense Plugins.
Posted By: Ben Jamir
Ben Jamir is the Founder and Author of Tipsnfreeware. He is a part time Blogger, sharing his experience and giving a Helping hand to Home users. You will find here the best Windows Tips,Tricks and quality Freeware.