How to Change the default Font in MS word, Font size, Color in Microsoft Word.
Microsoft Word by default sets "Calibri" as the default font in MS Word 2007 and 2010. Which is still not that much popular among users, but Word 2007, 2010 is flexible enough to let users change the default font of your choice. Most users simply uses the default font set but there are times or may be for a change you may like to change the default font for your new document. So instead of changing the font manually every time you start a new document in word, you can set your favorite default font in MS word, just follow this simple steps to set up Word to use the Font of your choice in all your document and make it as default font in MS word. 
Step 1: Open MS Word application. On the ribbon menu under the FONT tab click on the small arrow as shown below.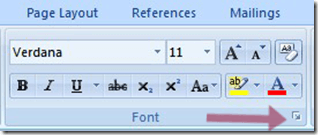 Step 2: Once you click that you will get the following options window.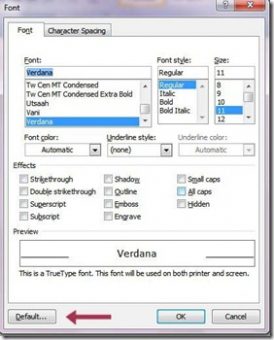 Step 3: Here you will get all the options, to change according to your choice. You can set the default font (I have chosen Verdana, which I like), Font size, Font style, color of the font etc. You can even set character spacing under the "Character spacing" Tab. Once you are satisfied , just click on the "Default" tab and Word will show this warning sign.

Step 4: Just click on "Yes" and you are done. From now on whenever you open any new document in Word all will have the default font, size, type etc. set by you.
You can change the default font in MS word in the same way, if you need to.
SUGGESTED READING:
1. How to Add Drop Caps to Paragraphs in Word.
2. Change the default file save location in MS Office
3. How to restrict editing in Word Documents.
4. How to Password Protect you're your Word and Excel Documents.
Posted By: Ben Jamir
Ben Jamir is the Founder and Author of Tipsnfreeware. He is a part time Blogger, sharing his experience and giving a Helping hand to Home users. You will find here the best Windows Tips,Tricks and quality Freeware.