Airtel Launched its 4G services across many cities in India. Making it the first operator to give the next generation fastest Internet connectivity.
In Nagaland (North-east India) Airtel launched its 4G services in only two cities Dimapur and Kohima (initial stage) about a month ago. As per my experience Airtel 4G is definitely faster than its 3G service. But not as fast as they(Airtel) claim. Well that's another story we will discuss later.
Unlike Airtel 3G service, where you could easily check by clicking on Usage. Airtel has changed the way to Check Airtel 4G LTE Data Balance, in the Dongle. Not so user friendly and added a few steps extra, just to check 4G LTE data usage balance. 
Here's How to Check Airtel 4G LTE data balance:
To view or check Airtel 4G LTE data balance, you will have to login to "My airtel account"
Quick Link: https://www.airtel.in/myaccount .
This will take you to the Login page.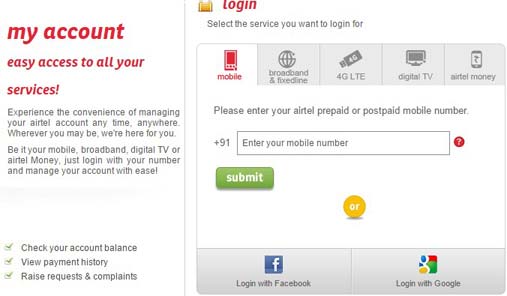 Here enter your Airtel USIM number in the box provided. And click on submit. You can also login with your Facebook or Google account here. 
After clicking on the submit button, you will get two options. If you have an account you can login with your password. If you login with your Facebook or Google account, you will have click on " No, I don't have a password, please help me get a One Time Password (OTP)." option

Airtel will send you a O.T.P (one time password) on your phone or as SMS on the Airtel connection manager tool, on your PC or laptop. Which you will need to enter, to access your account information. Your Account information page will look like this.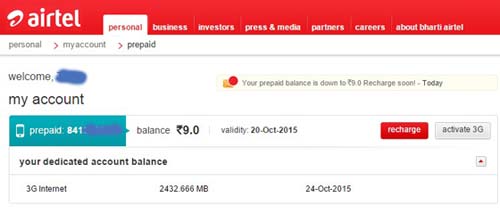 On the account page you will see all information about your Airtel 4G LTE data.
Information's like, USIM number, Account status, data usage balance, validity, recharge history etc.
Ben Jamir is the Founder and Author of Tipsnfreeware. He is a part time Blogger, sharing his experience and giving a Helping hand to Home users. You will find here the best Windows Tips,Tricks and quality Freeware.