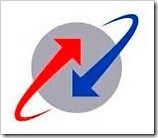 How to Check BSNL 3G Data usage Balance from your data card Dialer Interface itself. As a BSNL 3G data card user for the last couple of months, I have been wondering how do I check my bsnl 3g data usage balance. Because in the Dialer Interface of BSNL 3G data card, I didn't find any default number which could be used for checking the data usage balance and validity.
( I am sharing  this post as I am from the Northeast 2 circle. For other circles in India it might be there in place for checking the data usage, OR see below)
STEPS: Plugin your Data card and open the Dialer. The picture I am showing here is for the Dialer Software version: LW272V1.0 and the hardware version: U302_M343_P1_V1.0. Why I am stating this because the Image of my Dialer may differ from yours.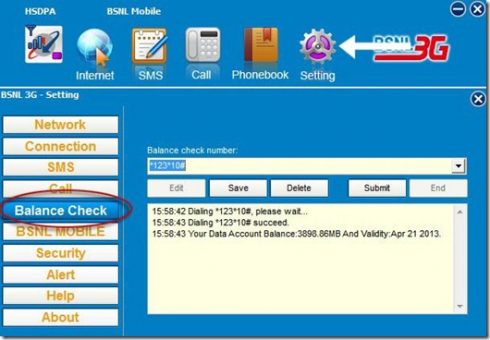 From the Top Menu Button click on the "Settings" button, you will get ten different options on the left pane as shown here in the image above.
Scroll down and click on the "Balance Check" button ( I think in some Dialer interface this might be shown as USSD, if so click on that.
On the right pane under the "Balance check number" click on the drop down menu, you will see two or three default numbers, which of course doesn't check your balance. Select any one number and click on Edit, because you can not directly input any number in that box. After clicking on the edit button type the following
*123*10#  and click on save button for future use and than click on submit button. This is for BSNL 3g data usage balance, after a second or so you will get a message showing your BSNL 3G Data usage Balance and Validity date as shown above.
Type *123# this is for talk time balance. Don't get confused you need to have Talk time or SMS package too, other wise your message won't be sent and you will not be able to check your BSNL 3G data usage balance.
As I mentioned above this works perfectly for the Northeast circle of BSNL 3G. For other circles in India, you may try the following.
How to check BSNL 3G Data usage Balance.
In Data Cards —
In data card dialer interface, type *124*1# and click the submit button, within few seconds the updated balance will be available on the screen. If this doesn't work try changing the number 1 from 1 to 10.

You can also dial *123*10# in USSD interface to know the Data Balance from 3G Data Cards.

You can also send SMS directly through the Data cards via Text massage/SMS interface given in the data card dialer software. Just type DATA3G and send to 53733 and get your current Data balance on the screen in the form of SMS.

You Might Also be Interested to Read:
Posted By: Ben Jamir
Ben Jamir is the Founder and Author of Tipsnfreeware. He is a part time Blogger, sharing his experience and giving a Helping hand to Home users. You will find here the best Windows Tips,Tricks and quality Freeware.