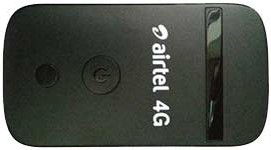 With Airtel 4G WiFi Dongle, you can enjoy a broadband internet experience even outside your home. Whether at your favorite cafe, restaurant or local hangout airtel WiFi guarantees a secure and reliable connectivity on your laptop or handheld device.
Airtel 4G services in India is the first operator to give the next generation fastest Internet connectivity. Sometime back I wrote a post on how to check Airtel 4G LTE data balance, where you were required to log on to airtel.in/my account.
Today we will show you how to check data balance on Airtel 4G WiFi Dongle, from the Airtel's WiFi user interface itself. Which appears to be more accurate.
Note: You will need to be connected to Internet, through the Airtel WiFi  Dongle. So switch on the Airtel WiFi hotspot and connect to Internet.
We have a short video on how to check data balance on Airtel 4G WiFi Dongle.

Didn't like the video ? than read on the following detail steps with pics.
1: Open your browser, I prefer Google chrome.
2: In the browser address bar type : 192.168.0.1 this is the IP address of the Airtel WiFi dongle. If this does not work please check the dongle package for its IP address, it should be written there.
3: After entering the IP address, press enter and you will be presented with the login screen, as shown below.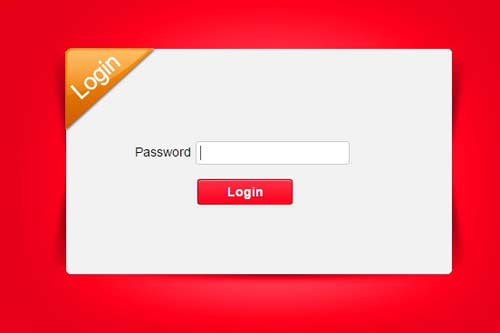 4: For the login password type admin , this is the default password. Than click on login.
5: Next you will see the following information window. This is the user interface of Airtel 4G WiFi Dongle.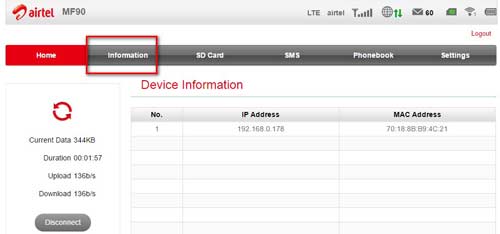 6. Here on the menu bar click on Information tab. In the information screen , on the left panel click on Data Usage.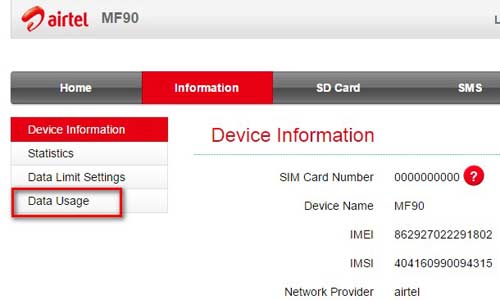 7: This will open a new windows and you will be presented with all the information about your Airtel 4G LTE usage balance, as shown in the below image
Under usage, you will see Your Pack Name (if you have opted for any pack), Balance in MB and Validity date.
On this page you also get the link to directly recharge online, check all your transaction details and other special offers.
Ben Jamir is the Founder and Author of Tipsnfreeware. He is a part time Blogger, sharing his experience and giving a Helping hand to Home users. You will find here the best Windows Tips,Tricks and quality Freeware.