How to convert 1GB memory card to 2GB for FREE with Software
Here is trick or solution, I would like to share with you, with which you can convert your 1GB memory card to 2GB. with a free software.Sounds impossible?
Just follow this instruction to upgrade your card. After completing this procedure you will be amazed to see that your 1GB memory card is now capable of storing 2GB worth of Data.
I am not telling you, let your Computer show you that. But before we proceed , I have to tell you this software works for only 1GB memory card, so make sure that you insert a 1GB memory card.
First Insert your Memory card to your PC

If you have any data, than back it up keep it safe in a folder in your PC

Format your Memory card.

Download this software SKYMEDI and install on your Computer.
After Installation the application will launch itself automatically, and will show a window with the following two options "Fix" and "Cancel" as shown below.From the drop down menu of this window browse and locate your memory card.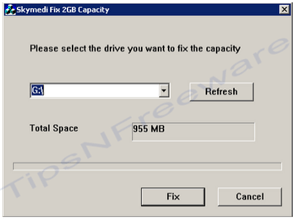 6. After locating your Memory card, the drive letter will be displayed on the box as shown in this picture. After you are sure that you have located the memory card correctly, the application will show you the present capacity of your Memory card as 955 MB, this is because it's a 1GB card (as you might realize the remaining part is occupied by the FAT, so you don't see it as 1GB) Now, just click on the "FIX" button, the software will ask you to confirm just click on "Yes"
7. After sometime, when the processing is done, the application will ask you to unplug the memory card. Unplug it and re-insert it again to your PC, let your computer detect it.
8.Now got to "My Computer" select your Memory card "Right click" on it, than click on—> Properties. You will see the size of your Memory card as 2GB.
9. If you want to double confirm the storage capacity of your Memory card, than reopen SKYMEDI again and select your memory card. This time it will show your card capacity as 1912 MB (that's 2GB).as shown below. Now Enjoy your extra 1GB space for FREE.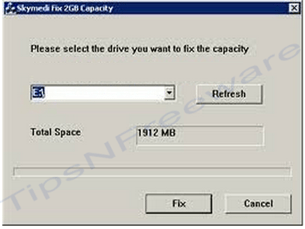 Conclusion:  Now a days, probably we do not get 1GB Memory card any more. Since much higher capacity Memory cards are available these days.
This article probably will not be any help. But with this is a amazing FREEWARE,  you can easily double the storage capacity of your 1GB memory card at NO EXTRA COST, that too with just a few clicks.
I am not very sure, but this software may not work with certain type of memory cards (since I don't have all of it).So if it doesn't work for the first time, don't try it repeatedly, as it might damage the memory card.
Ben Jamir is the Founder and Author of Tipsnfreeware. He is a part time Blogger, sharing his experience and giving a Helping hand to Home users. You will find here the best Windows Tips,Tricks and quality Freeware.