How to convert FAT32 to NTFS file system without formatting or losing data?  That's easy if you are re-installing windows fresh, where you can define the file system when formatting.
In this TIP we will convert system file system via command prompt without any third party software.
But before you decide to convert file system, lets try to understand the benefits and limitations of each of these file system.
NTFS (New technology file system) the most widely used file system as of now, doesn't support earlier versions of windows. NTFS is more powerful, stable and a very secure file system.
FAT 32 (File allocation Table) supports only the older versions of windows (up to Windows XP) and also most non windows operating system. For more differences in details you can google or check it from the Wikipedia.
Today i would like to share this tip, of how to
convert your file system
from FAT32 to NTFS without the need for formatting and fresh installation of windows on your computer. As you might know that the NTFS file system is the native file system of windows vista and windows7, windows 8(windowsXP supports both FAT32 and NTFS) and NTFS is the most stable file system, above all, best as far as hard disk space utilization is concerned.
OK than here we go
:
How to convert FAT32 to NTFS

:
If you are still using Win XP, Win XP supports both FAT32 as well as NTFS file system. If yours is FAT 32 file system (which you can find out- right click on C drive in my computer and click on properties it will show what file system) you can easily convert to NTFS in command prompt.
NTFS file system is not only stable but also runs much faster, you will definitely find a lot of difference in the speed and system performance too.
HOW CONVERT FAT32 to NTFS WITH COMMAND PROMPT IN WINDOWS
As an example I am using a USB flash drive to convert the file system.since my system is already on NTFS system. The command is same if you need to convert file system on your hard disk. All you need to know is the drive letter allocated to the partition you intend to convert. In my case  the Thumb  drive letter is "L"
Step 1:
click on start-run-type cmd from the menu click on cmd,

command prompt window will open
Step 2:

On the command prompt windows type:  convert <your drive letter here>:/FS:NTFS (note there is a space after convert) so the command in my case is

convert l:/FS:NTFS

(since the drive letter of the Thumb drive is L)
than Hit the Enter- on your keyboard. 
Windows checks the device, reports on the existing file system, integrity of the device and proceeds to convert the file system. The whole process is quite fast.
If you want to reconfirm, you can type the same command again and hit enter, window will display the message "The drive L is already NTFS" see the Image below to understand it better. (For the purpose of this TIP I have used my Pen drive, drive letter for the pen drive was "L".)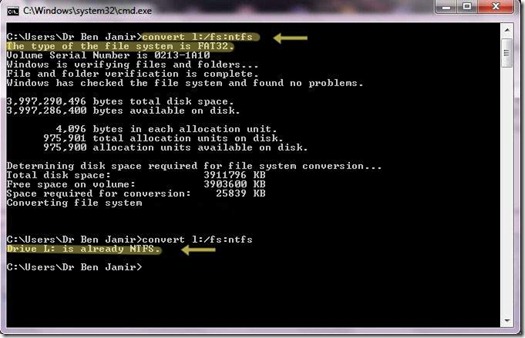 If you need to convert "C" drive,
that is your system drive, follow the same command and conversion will take effect when you restart your computer, since the system files are locked when your computer is on conversion can not take place.
This command can be used to convert FAT32 to NTFS file system on any external USB drives(external HDD/pen drives).
Caution
: Since you are dealing with a working system, to be on the safer side back up your System, should anything go wrong you can always restore your system. You can make a IMAGE file of your
SYSTEM for Backup and Restore
.
Ben Jamir is the Founder and Author of Tipsnfreeware. He is a part time Blogger, sharing his experience and giving a Helping hand to Home users. You will find here the best Windows Tips,Tricks and quality Freeware.