Blogger Blogspot is a very good free platform to host your Blog. I also started my Blog on blogger initially, before shifting to self hosted wordpress site.
Everything in Blogger blogspot is convenient and easy to follow even for a newbie. But one of the biggest problem ( negative) in blogspot is, they just don't give you any option to create Menu bar in blogger to categorize posts.
But in wordpress.com sites (which also provides free hosting) you can easily create your own menu in the navigation bar.
But don't worry, there is a easy workaround to create Menu bar in blogger with labels. You can use your labels as categories. For example if you want a category named as "Recipe" under which you may have different types like, Indian recipe, Chinese recipe etc. You can create a menu tab as RECIPE , blogger will automatically pull up all post under Recipe.
If you are using Labels in your posts, than its good. If you are not, than create labels for your every posts. Labels in blogger are like keywords that attach with your post. To use Labels to categorize your posts, just make sure that you use the same label in all the post under that category.
Create Menu Bar In Blogger With Labels
Here's how to create Menu Bar in Blogger with Labels.
1: Log on to your blogger blogspot.
2: Under more option drop down click on " Layout"         
3: On the Layout panel you will have many widget options. Look for the widget "Pages". If its not there, than click on "Add a Gadget"


4: From the list of Gadgets that blogger offers select "Pages"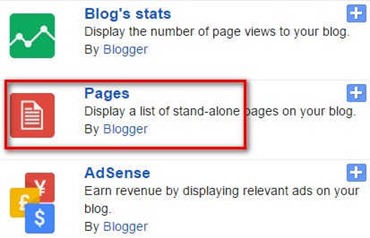 5: In the pages widget Click on "Add external Link"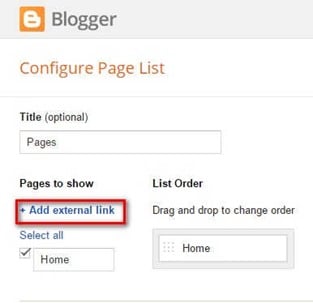 6: On the Link Page window. In the "Page Title" Field type the name that you want to appear as menu. For example "Recipe"                 
7: Just below that under "Web site URL" you will have to type the link for that Label as
http://www.(your blog name).blogspot.com/search/label/(your label name).
If your Blogger Blog name is "Myblog" the web site URl link would be.(this is an example only)
"http://www.myblog.blogspot.com/search/label/recipe"
9: Once saved in the layout window, drag the now created pages (which will now show the name Recipe) and place it just above the Blog Post box. And click save settings/changes.
Review your Blog, the title you gave will now appear as menu above the blog post. If you click on it blogger will pull all posts under recipe label. Just make sure, all your recipe posts should have the label "recipe".
You can watch this short Video to understand better…

Ben Jamir is the Founder and Author of Tipsnfreeware. He is a part time Blogger, sharing his experience and giving a Helping hand to Home users. You will find here the best Windows Tips,Tricks and quality Freeware.