HOW TO CUT AND EDIT MP3 FILES:
 MP3 files are not Image files that you can easily crop in any image editing software, they need a different type of software.
MP3 cutter is a simple utility that allows you to cut and edit MP3 files , in a few clicks and save it in your hard disk. Cutting MP3 files virtually means that, you can cut a certain portion of a song you may like and save it.
For example, just say you have a MP3 file where you find that certain portion of the song say(Instrumental  portion) you like to keep. Than with MP3 cutter you can easily cut that particular part from the MP3 file and save it as a separate MP3 file.
This small utility also allows you to edit your WAV files too. And you can save your finished product to either format (MP3 or WAV). You can drag and drop the MP3 file in to the programs interface to edit.
Possibilities with this software?
You can easily trim the songs by cutting them. You can also use FADE IN and FADE OUT feature to make it smoother.
After opening your MP3 file either from the file menu or by drag and drop files. You just need to adjust the marker slider's and drag it to the starting point and end points and hit apply to cut that portion of the file, and save it in any format you wish to.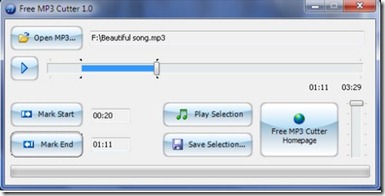 You can play your selected portion of the MP3 file before applying and if not satisfied you can adjust the slider accordingly. You can also modulate the tracks volume and also change mono to stereo and vice versa.
Over all MP3 cutter and Editor is a simple and FREE application to cut and edit MP3 files. It supports limited number of formats, but that's not an issue can be overlooked since it's a small FREE utility and does its basic job.
Cut and edit MP3 files quite well. It doesn't have the features of other advanced audio editing software. But if you want to do the basic editing this is worth its name.It does what its name says so just don't expect miracles.
Download the latest Version of MP3 Cutter Editor

 
Posted By: Ben Jamir
Ben Jamir is the Founder and Author of Tipsnfreeware. He is a part time Blogger, sharing his experience and giving a Helping hand to Home users. You will find here the best Windows Tips,Tricks and quality Freeware.