Facebook is turning out to be another very popular Video sharing Site. Many a times you may have seen your Facebook friends posting and sharing interesting videos. If you see some interesting videos and want to save, how to download the video and save it ?
We show you a very simple and easy way to download videos from Facebook.
How to Download Videos From Facebook:
First: Log on to your Facebook page. Locate the Video that you want to download. Click on the video to play.
Facebook will start playing the video. You can click again on the video when its playing to let Facebook show the video on a bigger window as shown in this image.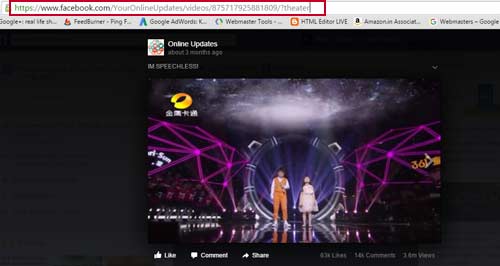 Now Go to the address bar of your browser, the video URL will look something like this
https://www.facebook.com/YourOnlineUpdates/videos/875717925881/?theater
Second step: Now click on the Video URL on the browser and change the "www" to "m" (without the quotes).
For Example the above video URL should look like this
https://m.facebook.com/YourOnlineUpdates/videos/875717925881/?theater
Now press enter. Facebook will reload the video again.
Click on the play button to play the video. When the video starts playing, right click on the video and from the context menu click on "Save video as"
Windows will display the save option window. Now all you have to do is to give a name to the video as you want and give location where the video will be saved on your hard disk.
Click on the save button.
That it. windows will download the video in MP4 format and save it in the location you have entered earlier.
You can watch this short Video ..Very simple and easy way to Download Videos from Facebook…
Ben Jamir is the Founder and Author of Tipsnfreeware. He is a part time Blogger, sharing his experience and giving a Helping hand to Home users. You will find here the best Windows Tips,Tricks and quality Freeware.