If a picture is worth a thousand words, A video is worth a million !
A 2 minute video can speak more than a 1500 words article. Visual presentation with graphics, can explain things much better than thousands of words. No matter how nicely the article is written.
This is more important if you are maintaining a tutorial blog (on any topic). It's a good idea to make a video of the topic that you write, and publish the same in free on-line video sites like the YouTube, Vimeo etc. This will give your reader the option to read the article or watch the video for better understanding.
YouTube and Vimeo are the two most popular site to upload your video for free. But many asked the question how to embed YouTube video inside a blog post.
In earlier versions of word press it was necessary to install a plugin to embed YouTube video.But now its very easy to embed YouTube video in your blog post.
I have a video on how to embed YouTube video in a blog post. You can see it below or if you prefer to read, please scroll down.
HOW TO EMBED YOUTUBE VIDEO:
Step 1: First open the video in youtube you want to embed. Below the YouTube video window, you will options for share and embed. Click on the embed option, as shown in the image below.



Step 2 : YouTube will show you the iFrame YouTube URL of the video playing now. Copy that code. Don't copy the share URL.
Step 3 : Optionally you can also chose the frame size of the YouTube video to be displayed inside your blog post. This will depend on the width of your content area. Set this frame size first before you copy the embed video URL above. See image below.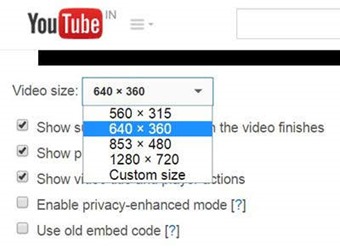 Step 4: You can choose from the pre-defined video size or you can have your own custom size. Log on to your Dashboard and open the post to edit.
Step 5: If it's a new post article you can paste the copied URL where you want. If it's an old post, determine where you want the YouTube video to appear.


Step 6: Don't paste the YouTube video URL in the view mode but in the TEXT mode in the word press editor as shown in the image. Save your changes. Preview your post first before publishing.
That's it, how to embed YouTube Video in your blog post.
Ben Jamir is the Founder and Author of Tipsnfreeware. He is a part time Blogger, sharing his experience and giving a Helping hand to Home users. You will find here the best Windows Tips,Tricks and quality Freeware.