How to Extract Audio from a video file and save them as MP3 files.
Extracting Audio from a video file is not a difficult thing anymore. There are plenty of freeware's to Extract Audio from a Video file and save it in MP3 format. 4K Video to Mp3 is an application which can easily extract Audio from a video files as MP3 files.
With this FREEWARE you can extract audio from a video clips on your computer with a few clicks. It's a very simple and easy to use program. If you have a video music file and want to extract the audio from the video so that you can play in any audio player, you can use this tool to extract the audio as MP3 file format and save it on your hard disk.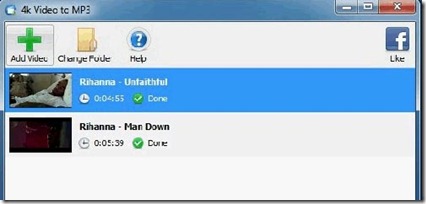 This is one software which is specially created to extract audio from a video like You Tube, Vimeo, Facebook and other services. No annoying settings and nothing superfluous.
This is a open source FREEWARE and cross-platform. This program is simple with a more simple interface, well organized with a very low consumption of system resources.
To extract Audio from a Video file you simply drag and drop the Video on the application window. Then the program automatically extracts the Audio, the program also displays  a green bar as a progress bar in real time. You can also Pause or resume the conversion with the right click context menu. The extracted file is saved in the folder which you can specify by clicking on the "Change Folder" button and set the destination folder. 
4K Video to MP3 is a Free and easy to use software to convert your Music Video files to the most popular format MP3 files.
Download the latest version of 4k Video to MP3
You may also like to read " How to download High quality You Tube Video"
I am Ben Jamir, Founder and Author of this blog Tipsnfreeware. I write about the computers,tested free Software's, Tips, Tricks, Networking, CCTV and Information Technology on this blog. If you like my post /Tips then please like and share with your friends.