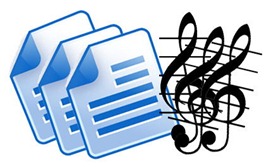 Find and delete duplicate files easily from your computer.To find and delete duplicate files, is a daunting task. That's why you need to use a standalone tools to find and delete duplicate files with just a few clicks. 
Duplicate file finder are tools that does this job effortlessly and presents you list of duplicate files (any type of files). Which you can selectively safely delete from your computer. Regaining precious disk space.Many  users are unaware about this problem.You may have hundreds and thousands of MP3 files stored in your Hard disk, collected from various sources. How would you know how many duplicate files of the same song you have. Looking for such duplicate files manually and deleting them will be a next to impossible task.
DUPLICATE CLEANER is such a utility which can find and delete duplicate files, for you. Help you to safely find and delete duplicate files, saving space and simplifying your life.
A tremendous help in cleaning the useless clutter from your hard disk. Duplicate Cleaner is a tool to assist you in
cleaning
up the contents from your hard drive or network. When you use this software you will be surprised just how many duplicate files are there in an obscure document folder. Like Photos, Music, word documents,PowerPoint presentations, Videos – you name it, if its there than Duplicate cleaner will find it for you.
Duplicate cleaner is a must have software, to clean up your PC to find and delete duplicate files. The interface of the program may not be very easy for the very novice to understand. But is fairly straight forward. You can select a whole partition or even a single folder to scan and find and delete duplicate files.The program gives you three basic options for searching: Folder (s), File types, and filter criteria.
You can scan a whole partition for example your music collection partition to find any duplicate copies of your music collection. The program will find it and display neatly in which folder's the duplicate files are. So that you can selectively delete the files. You can also search for files by the same name, same date or even by file size. Once the program returns a list of results, you then have to decide what to do with the dupes.The program allows you to tick the boxes of the items you want to modify and perform an action- delete or delete to recycle bin.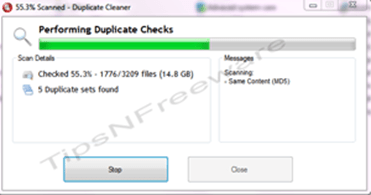 Duplicate Cleaner can also clean up orphaned files and empty folders if you desire.
CAUTION: The Application offers a few safety measures which is accessible from an options file menu. Items such as Protect C:\Windows and C:\Program files etc. but these are selected by default. But such files still show up in the duplicate list but the program warns you if you try to delete such files. This I feel is one Cons that goes against this otherwise excellent
optimization tool
for intermediate to advanced users.
Here are some key features of "Duplicate Cleaner"

· Find and delete Duplicate Files by content, fast!
· Cleaner hard drives means faster performance
· Fast Scanning and accurate duplicate comparison (Uses the MD5 Hash algorithm)
· Deep scans music – locate duplicate music formats (includes MP3, iTunes (M4A) and more.)
· Flexible search parameters
· Intelligent Selection Assistant
· Search home or networked drives
· Search multiple locations
· Export / Import results in CSV format
· View Path,Size and Date of files
· Large, resizable list window
· Image preview window (helpful to delete duplicate images)
· Delete duplicate files to the Recycle bin
· Move dupe files to a new location
· Turn duplicate file into hard links (NTFS file systems only)
· Protection for Windows and system files
· Supports multiple languages
You can Download the Latest Version of DUPLICATE CLEANER.
Posted By: Ben Jamir
Ben Jamir is the Founder and Author of Tipsnfreeware. He is a part time Blogger, sharing his experience and giving a Helping hand to Home users. You will find here the best Windows Tips,Tricks and quality Freeware.