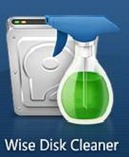 How to find and delete junk files from your computer. Manually finding and deleting temporary and other junk files from your computer is a daunting task. 
Is your hard disk filling up quickly ? Your system slowing down ? Most likely junk temp files are taking up disk space.
Junk files are files left behind by programs which fails to uninstall completely. Add to it, temporary internet files,log files, short cuts which doesn't point anywhere. And many more temporary files created by the windows system itself. Overtime these junk files accumulate and chokes your system. Taking up your valuable hard disk space, which sometime may run in to many GBs.
Windows disk clean up to some extent helps to find and delete junk files. But not completely. There are dedicated standalone software made to do just that ,to find and delete junk files.
Wise Disk Cleaner is a FREEWARE, designed to help you find and delete junk files from windows system. This freeware comes pre-configured with about 50 different file types extensions, that can easily be considered as junk files. Over and above you can also add your own file types in the junk file category.
Wise Disk Cleaner is also designed to find temporary files, history, cookies and auto complete form history of Internet Explorer, Chrome, Firefox and Safari browsers. And also finds and delete junk files, created by windows, Recycle Bin, Recent Documents, Temporary files and Log files.
This freeware tool do, a lot more  than most similar products and includes a "slim down" mode that gets rid of a lot of extraneous objects including wallpapers and other Windows files you may never use. A disk defrag feature is also included for free.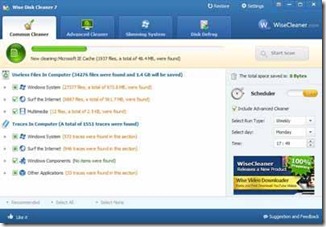 There are two ways in which you can find and delete junk files. If you are a beginner, you may use the wizard and use the program's default settings to clean-up your system.Which is the safest way. But if you are an advanced user, you can customize the search operation.
For example you can manually select folders to be cleaned-up, you can erase files with certain extensions, exclude folders from the scan, etc. When deleting file, you can either choose to delete or erase them forever.
In case you are not sure about them, you can delete them to Recycle Bin. Using this freeware program is indeed easy. It also works fast when both scanning for files and deleting files.
Quick Specs
File size:2.53MB

Price:Free

Operating system:

Windows XP/Vista/7/8
Ben Jamir is the Founder and Author of Tipsnfreeware. He is a part time Blogger, sharing his experience and giving a Helping hand to Home users. You will find here the best Windows Tips,Tricks and quality Freeware.