---
This is a TIP to show you how to hide the text of Desktop icons in Windows. Windows already shows its default icons like the My computer, Recycle bin, My documents etc. on top of it we create our own shortcuts on the desktop and also almost all installed programs places the programs shortcut icons on the desktop. All these shortcuts has a text describing the programs name or the Folder name, some of the names are quite long and makes the desktop look messy. How about displaying only the icons and no text. As an example see below
    From This >> to >> This
Step 1:  First open the "character Map" in windows. How do you access the character map ? there are two ways to, first method > click on the start button > than all programs > than Accessories > scroll down and click on system tools > than under it click on Character map. Second method is to click on the start button and on the search box type "Charmap" (without the quotes) and press enter, from the displayed options click on charmap. This will open the windows character Map.
Step 2:  Character map is a feature in windows which contains all those characters which are not present in the Keyboard. You can use character map to insert special characters into your documents.
On the character map scroll down and select a Blank character from the grid, than click on select button and than click on the copy button. As shown in the below Image.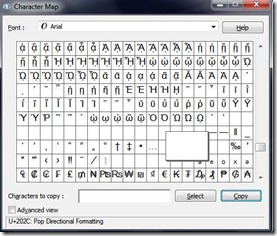 Step 3: Now right click on any icon in the desktop you want to remove the text and from the context menu click on rename, than right click on the rename box and click on Paste and press enter. That's it the text will be gone.
Note: If you get the message that another icon has the same name, than just choose another blank box from the character map grid as explained in step 2. See the image below.

The Text on the desktop icon now will be hidden ( see the image below)

You can repeat the steps mentioned above to hide the name of other desktop icons, simply select a different blank font from the character map grid.
TIP : If blank character set is not available you can choose a different font from the font list, there's plenty.
Step 4: To rename back your desktop icons, simply right click on the icon than rename and type whatever name you want to assign.
TIP: Its fun to do but I have found removing the text from the icons does make your Desktop look much cleaner.
What do you say ?
You may also like to read " How to arrange your Desktop Icons Free software"
Ben Jamir is the Founder and Author of Tipsnfreeware. He is a part time Blogger, sharing his experience and giving a Helping hand to Home users. You will find here the best Windows Tips,Tricks and quality Freeware.