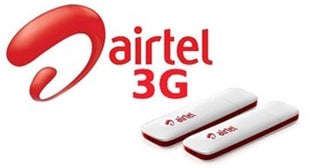 Simple and Effective trick to increase Airtel 3G Internet speed. The most frustrating about Airtel 3G dongle is, it constantly changes from 2G to 3G on its own. Most of the time gets connected with 2G speed, even though you have paid for 3G connection.
There are millions of frustrated users and there is no proper customer help/support from Airtel.
Simple trick to increase Airtel 3G Data card speed. If we could increase the speed of BSNL 3G data card. We can increase Airtel 3G Internet speed too.
A very simple TIP or TWEAK to Increase Airtel 3G Internet speed significantly by almost 500%. Hard to believe? try this tip/tweak….
How to Increase Airtel 3G Internet Speed : Proven Trick/Tweak
But first you must know that Airtel does not have 3G services in all the place that you travel. Airtel has both 2G and 3G zones. So you will not get 3G speed if you are in a 2G zone.
So you might ask how do I know if I'm in a 2G or 3G zone ? Very simple, Airtel dongle shows a flashing LED light in the back. You see that the moment you plug it on your Laptop or PC. The green flashing light means 2G signal and Blue flashing light means 3G signal.
Now that you know, lets proceed to on how to Increase Airtel 3G internet speed.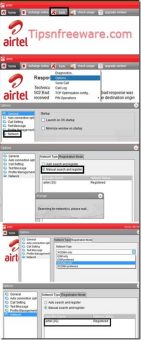 Open the Airtel connection manager, which you have already installed. From the menu click on "TOOLS"
Under TOOLS sub menu click on "OPTIONS"
Under options window, on the left panel click on "NETWORK"
Under network type by default you will see "WCDMA preferred" is selected. We don't want that. Click on the small drop down arrow and select "WCDMA only" option, and keep the Bands as All bands, save your settings
Again under options, click on the "Registration mode". Here you will see two options. Click the button  "Manual search and register" to select it. 
At the bottom click on refresh.
Airtel will search for all the available 3G network.It may make a few seconds or a minute.
From the result click on "Airtel (3G)" to register the network. It will show "Airtel (3G) Registered".
That's it, a simple tweak to increase Airtel 3G Internet speed. Now connect and see the difference.
NOTE: If after this tweak your Internet speed does not increase, possible reasons could be….
1: You may not be in 3G zone.
2: You may not have registered with 3G network as stated above. Check the indicator light in the Dongle 2G will be green and 3G will be Blue.
3: Try un-installing the software and re-install it.
I hope this simple tweak will give you much better speed. Its working for me.
EXPLANATION FOR THIS TWEAK: If your area has both 2G and 3G, and your 3G signal is weak. Airtel automatically connects to the stronger the signal that it finds, 2G in this case. By tweaking it to WCDMA only will force it to connect to 3G Internet signal only.
Ben Jamir is the Founder and Author of Tipsnfreeware. He is a part time Blogger, sharing his experience and giving a Helping hand to Home users. You will find here the best Windows Tips,Tricks and quality Freeware.