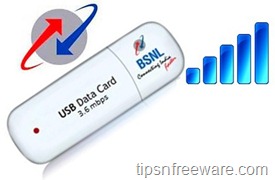 (updated 30 June 2016).
A simple but sure way to increase BSNL 3g data Card speed. BSNL 3G data card does give very good download speed. But you find the difference in speed when you try to browse the net, its just painfully slow and sometimes the download just gets stuck at zero.
What I am sharing here is not a hack but a simple trick.
BSNL dialer software by default choose the preferred network automatically.
Which means, if the 3G network signal is weak or there is a problem, it will automatically switch over to the 2G network. That is, it gets connected to the stronger signal spectrum.
This change over may last for sometime, but sometimes might last longer and you won't even notice it since it does it automatically. But the speed difference is huge.
Even Weak 3G signal is much faster than full 2G signal.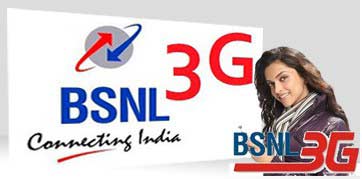 Follow these simple trick to get the maximum speed and increase bsnl 3g data card speed. Remember to do this offline, not connected to internet.
Step 1: In the Dialer software under the settings disable Automatic and choose manual and select 3G only. However depending on the dialer software in some you might not see 3G option, instead UMTS/HSDPA, select it. Don't forget to put it back to automatic when roaming or where there is no 3G network.
Step 2: Change the DNS, this too should be done offline (disconnected). Use Google DNS which is quite fast, the settings are as follows
Preferred DNS server : 8.8.8.8
Alternate DNS server: 8.8.4.4
Using these two simple trick you will get huge speed gain, you will see noticeable, increase bsnl 3g data card speed.  However remember that as it is applicable to all Internet connections, as more and more subscriber access the signal from the same tower, the speed will get slower, unless the service provider increases the bandwidth.
BSNL 3G proudly displays 3.6 Mbps speed, with this trick I get nearly 3Mbps speed while downloading (Max receiving speed) and a constant 400Kbps to 1Mbps while browsing that's pretty good speed.
Update: Alternately you can also do some tweaking to increase the internet connection speed in windows, for over all improvement in Internet speed.
I'm sure this trick will work not only for BSNL 3G data card but other data card too. Which data card do you use ? Any better idea to increase the speed ? share with us.
Some More TIPS/Tricks to Increase Data Card Speeds:
1 How to increase Tata Photon plus internet speed.
2. How to check BSNL 3G Data usage Balance 
3: How to Increase Airtel 3G Speed 100% working.
Ben Jamir is the Founder and Author of Tipsnfreeware. He is a part time Blogger, sharing his experience and giving a Helping hand to Home users. You will find here the best Windows Tips,Tricks and quality Freeware.