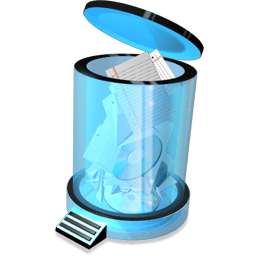 Here is a simple tip on how to increase hard disk space. Gone are the days when we had maximum 4GB hard disk size, (Windows 98 time).  In today's scenario 1 TB (terabyte) hard disk sizes has become normal.
But side by side software sizes too has increased. Windows 98 hardly occupied 400 to 500 MB of hard disk, after installation. Windows 8.1 installation file itself is more than 3.5 GB. 
Have you thought how much hard disk space windows allocates to the recycle bin ? Recycle bin is akin to a dust bin. What ever you delete from windows, the files gets deleted to recycle bin. This is a safety measure only, if you happen to delete files accidentally, you can easily recover it from the recycle bin. Since windows do not deletes files from your system, unless you empty the recycle bin.
How to gain hard disk space from Recycle Bin:
Windows by default allocates 10% of your C drive for recycle bin. Note ten percent of your C partition. So if you have allocated 100 GB for the C partition. A whooping 10Gb (10% of 100GB) is allocated to the recycle bin. Now that's a lot of space.
I don't think any one would keep that much of deleted junk files in the recycle bin. Deleted files in the recycle bin also in turn fragments your C partition and slows down your system.
I personally do not allocate more than 1GB for the recycle bin. I feel even that is also more than sufficient.
You can gain a lot of free space and increase hard disk space, by simple re-allocating space to recycle bin.
Increase Hard Disk Space for Free:
To increase hard disk space, re-allocate less space to re-cycle bin.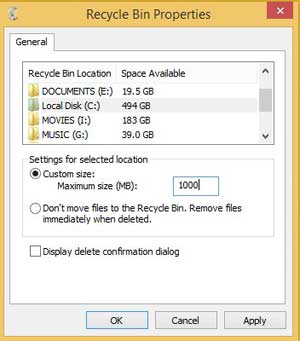 > On the desktop, right click on the Recycle bin icon.
> From the context menu, click on properties.
> Under "Settings for selected location"
> Click to choose "Custom size"
> From the hard disk partitions Select C partition.
> Under Maximum size (MB) enter the amount in MB you want to allocate for the recycle bin
> Click on "Apply" and exit.
That's it,you have just gained a lot of free space and increased hard disk space. If your C partition is of 100 GB, and you allocate 1GB to recycle bin, you gain  whooping 9GB of hard disk space. 
Ben Jamir is the Founder and Author of Tipsnfreeware. He is a part time Blogger, sharing his experience and giving a Helping hand to Home users. You will find here the best Windows Tips,Tricks and quality Freeware.