TIP TO INCREASE LAPTOP SPEAKERS VOLUME WITH FEW TWEAKS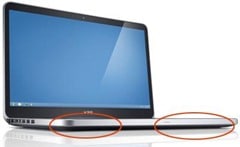 Is there a way to Increase Laptop speakers volume level ? These small compact gadgets has slowly overtaken Desktops. We seem to do everything on our laptop, listen to music, watch our favorite movie, play games on our laptop.
But the sound output  from the tiny speakers packed in these compact gadgets, is disappointing, unless you have a external speakers.
Did you ever thought if only you could increase laptop speakers volume level, while listening to your MP3 or watching a movie with friends? Here is a simple TIP to increase laptop speakers volume. Not dramatic but definitely an increase in volume level.
If in a Hurry !! watch this short Video:

TIPS TO INCREASE LAPTOP SPEAKERS VOLUME LEVEL: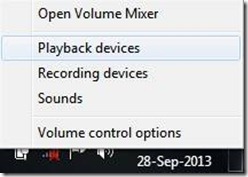 On the task bar, right click on the speaker icon as shown in this image. From the menu click on the "Play back devices" option. And you will get the following options.

In this window select and double click on the "Speakers/headphones" option.
On the next window "speakers/headphones properties" , on the top menu select and click on the "Enhancements" tab.
Under the enhancement window options, you will get four different options to choose. At the bottom check on the "Loudness equalization" . Than click on apply tab at the bottom and than ok.
That's it, now listen to your music file, you will definitely find an increase in your laptop speakers volume level. Now enjoy watching movies with friends.
Under the enhancement options you will also get the following options like "Bass boost" "Virtual surround", "Room correction" etc. But remember you can enable either virtual surround or room correction option one at a time, not both together.
That's it, a very simple way to increase laptop speakers volume, level. It works, did you try ? share your experience.
Ben Jamir is the Founder and Author of Tipsnfreeware. He is a part time Blogger, sharing his experience and giving a Helping hand to Home users. You will find here the best Windows Tips,Tricks and quality Freeware.