Do you have a YouTube channel and want to link it to your WordPress blog or site. Here's how you can link YouTube channel to WordPress site, permanently. Display your YouTube channel link in every page, and drive more traffic to YouTube.
Link YouTube Channel to WordPress Site: 
This is a short guide on how to set up a link to YouTube channel to wordpress site / blog as a menu. The menu can be added to your existing primary menu, which will linked with your YouTube channel and open in a separate window.
Step 1: Log on to your Wp-Admin dashboard. On the left panel under appearance > click on Menu. Follow the steps as shown in the image below.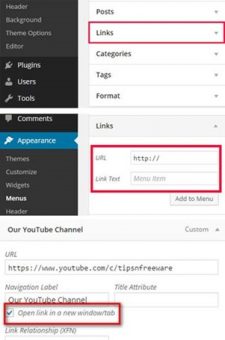 First make sure that your primary menu is selected in the menu.This is where the YouTube channel menu will be created.
Step 2: Under menu options click on the LINK tab to expand
Step 3: Under Link Tab you will see two options. URL and Link Text. In the URL box type or copy paste your YouTube channel URL.
Step 4: In the Link text box, type the name you want it to appear. For example "Our YouTube channel". Than click on Add to menu tab.
You will see the new link "Our YouTube channel" is added to your existing primary menu.
Now click on the just created menu "Our YouTube channel" to expand. Now check the box that says "open link in a new window/tab". At the bottom click on "Save Menu".
Now reload your site and you will see the link to your YouTube channel page. If you click, it will open in a new window.
That's it, simple way to Link YouTube channel to wordpress site as a menu. Get more exposer and drive traffic to your YouTube videos.
Ben Jamir is the Founder and Author of Tipsnfreeware. He is a part time Blogger, sharing his experience and giving a Helping hand to Home users. You will find here the best Windows Tips,Tricks and quality Freeware.