Are you looking for a quicker way to to install Windows 7 ? a much faster way than the DVD ? than try this method. Install windows from a bootable USB flash drive (Pen drive).
How to make a bootable windows 7 USB flash drive. USB flash drives have not only replaced the Floppy disk drives as the best storage medium, but it is also slowly but surely replacing the optical drives ( CD, DVD).
Reason, being they are much faster as far as file transfer is concerned, has more capacity and has longer shelf life. A few reasons why you should choose a USB flash drive over a DVD disc, and a bootable operating system is definitely one of them.
Your operating system CD or DVD can get spoiled and unreadable for many reasons like high temperature's, humidity, scratches etc. Besides USB flash drives are much smaller in size, easy to carry, easy to store, has more capacity, read write speeds are much faster than CD/DVDs. Data copy such as setup files and access time during installations are also significantly faster, making your windows installation faster.
Therefore, installing something like a operating system like Windows 7, works much faster from a USB flash drive than from a DVD. 
This easy to follow guide will show you how to make a Bootable Windows 7 USB flash drive. For this purpose we will be using this tool from Microsoft itself.
HOW TO MAKE A BOOTABLE WINDOWS 7 USB FLASH DRIVE:
WINDOWS 7 USB/DVD Download Tool.
This tool is normally given when you purchase Windows from the online Microsoft store. However now this tool can be freely downloaded.(more on that later) 
STEP 1:  This tool works only with Windows 7 ISO file.Don't worry, I will show you how to do that. Since you are reading this article, that means you have a computer and online now, which also means you have your original windows DVD already stored somewhere. Find it and insert it in the DVD drive.
Now download this FREE software "FREE ISO CREATOR" or if you are not comfortable with this software you can try this "IMGBURN" both are free software and can be used to convert your windows 7 DVD  in to a ISO image file. Once ISO image is created save it in your hard disk.
Step by step guide to make a bootable windows 7 USb flash drive:
STEP 2: Download and install this tool "WINDOWS 7 USB/DVD Download Tool"
STEP 3: Get your USB flash drive. The USB drive (Pen drive) must be of 4GB capacity. A good quality from a reputed maker is preferable since here we are making a install-able operating system, there shouldn't be any compromise in quality.
STEP 4: Open the tool "windows 7 USB/DVD download tool" which must have created a desktop icon during the installation.After initialization you will get this window.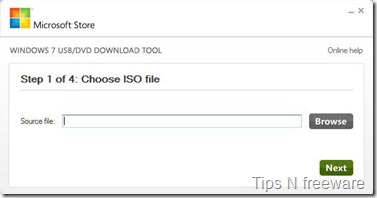 STEP 5:  Here under "Source file" browse for the ISO which you created earlier in step 1, from the  windows 7 DVD. Once you load the ISO file you will get this window.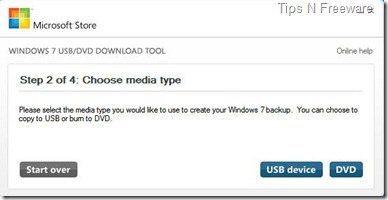 STEP 6: Here its pretty obvious. Plug in your USB flash drive and Choose "USB device" and click on it.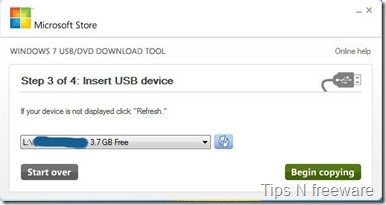 STEP 7: In this step it will show the name of your USB flash drive(if you have a name) and also the capacity of the drive. Now click on the "Begin copying" button.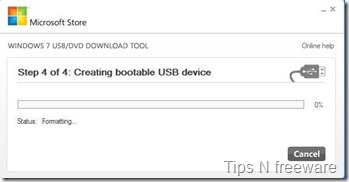 STEP 8: The tool will first format the USB flash drive and copying of file will start, the progress is clearly shown as a light blue colored progressing bar.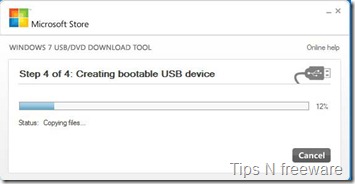 STEP 9: This process of copying and creating a bootable USB flash drive may take a couple of minutes depending on your system. Once the process is completed you will get this message.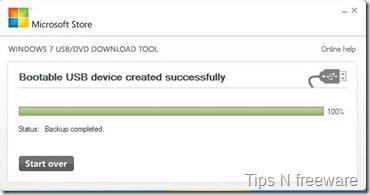 STEP 10: This message "Bootable USB device created successfully" tells you that the operation has been completed successfully without any error.Now you can unplug your USB device from the " windows safely remove hardware" dialogue at the task bar and close the tool.
If you want you can test the just created Bootable device by plugging it again to your computer, restart your system , go to the BIOS either by pressing the "Delete" or "F12" button (that depends on your system) and configure in the Bios the first boot device as USB device, and let the system boot. Window's installation process should start.
I hope you could follow the guide to make a bootable windows 7 USB flash drive. Hope this article was helpful. If you have enjoyed this you may like to subscribe for my feeds at the bottom of this page for all future updates. 
Ben Jamir is the Founder and Author of Tipsnfreeware. He is a part time Blogger, sharing his experience and giving a Helping hand to Home users. You will find here the best Windows Tips,Tricks and quality Freeware.