How to make some part of your Photo color and the rest to BW.
In this Photoshop Tutorial lets learn how to make some part of your Photo color and the rest of the photo in to black and white. This Photoshop tutorial is helpful when you want to put some emphasis on a part of photo as a special effect. You may have seen this effect where the main character in a photo is shown in color and the rest of the photo in black and white.
Step 1: I am using Photoshop CS3, however any version would do fine. First Open your photo in Photoshop in which you want to apply this effect. Figure out which part you want to keep colored and which part in black and white. Photos with people works well. I am using this stock photo, you can use your own or download any stock photo.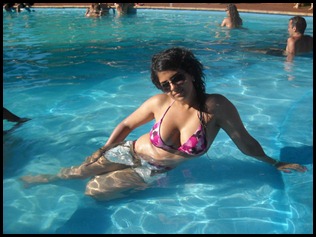 Step 2: From Photoshop menu click on – Layer – New adjustment layer – Channel mixer, as shown below. Adjustment layers automatically creates masks, which is gives great  control over what ever we do on a photo.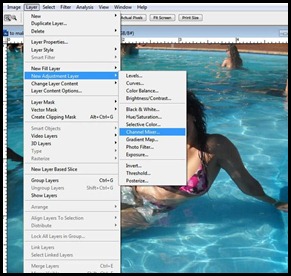 This will make a new layer as "Channel mixer 1" which will create a new layer in your layer pallet.
Layer Pallet view                      

Step 3: After clicking on OK on the adjustment layer Channel mixer you will get the following options window.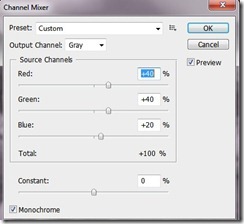 Here put a check mark on the option "Monochrome" at the bottom and click on OK, this will turn your photo in to black and white, as shown below.

Step 4: Now first make sure that in the color pallet of Photoshop the foreground color is black and the background color is white, this is the default Photoshop color, which can be activated by tapping

on the letter "D" in your key board.
Step 5: Now select this tool

  the brush tool. Set the Brush mode to Normal, Opacity to 100% and flow to 75%
Step 6: Now with the brush tool selected make sure that mask layer

(layer with white color as shown here) in the layer pallet is selected and with the brush tool paint over the object which you want the color to re-appear. Depending on the area of the photo you may have to change the size of the brush. To reach the finer corners of the image you will need to use smaller size brush. In this picture I am keeping the girl in color and rest of the photo black and white as shown below.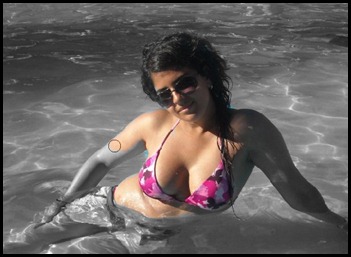 Keep on using the brush tool in all the portion where you want to reveal the color. If you happen to overdo, (going over the edges)  than change the foreground color to white and paint over the area to undo the effect, that's the beauty of using Masks
The final picture of mine looks like this.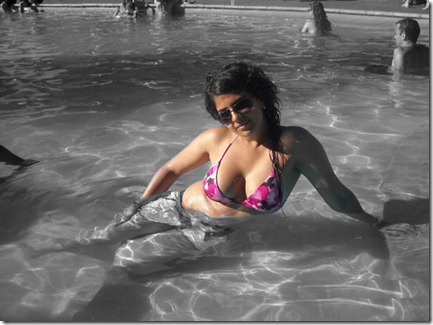 Hope this tutorial was helpful and easy to follow. You can try this effect on any photograph of group of people, where you can make your photo color and the rest black and white.
You might be interested to read  1. Text on Fire Effect with glossy reflection Part 1 and Part 2
2. Optimize Images in Photoshop for Blogs.
Posted By: Ben Jamir
---
Posted By: Ben Jamir
Ben Jamir is the Founder and Author of Tipsnfreeware. He is a part time Blogger, sharing his experience and giving a Helping hand to Home users. You will find here the best Windows Tips,Tricks and quality Freeware.