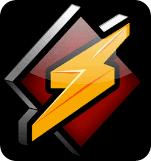 How to make WinAmp sound better :
   WinAmp one of the best free Media player around, that allows users to play Audio files      (music) in many formats and also some Videos. WinAmp (Windows Audio MPEG Player)    one of the most popular media player for PC users to play all your favorite MP3 collection of songs.
How to Make make WinAmp Sound better :
No ! I am not saying that you should buy a new expensive sound system or sound card ! If you thought your music can't sound better….. try this free DSP plugin for WinAmp a Freeware. And make WinAmp sound better.
Enhancer 017 , is a Free and one of the best DSP plug-in to make Winamp sound better, and make your MP3 sound even better. This plugin written by Adrian losif, in 2001 has never been updated (as far as I know till date). I personally have been using this plugin, and I still use it. And let me tell you, no other plugin can beat this plug-in,or make WinAmp sound better, as far as digital sound processing is concerned. Enhancer is  very small in size just 104 KB, installation is fast. You need to install WinAmp first and the plugin will automatically get installed in the winamp plugin folder. To activate just go to winamp – options- preferences- DSP/effect – and double click on enhancer on the right panel to activate it. On the Enhancer window at the bottom click on the "Power" button to activate.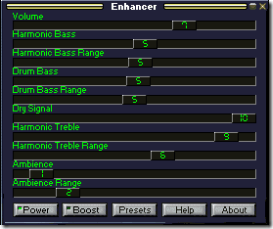 Enhancer has one of the best enhancement options to get your MP3 files to sound just how you want it to be. Its built in default preset settings" General Improvement" preset itself will improve your music output and make winamp sound better. Of course Enhancer comes with lots of presets you can try.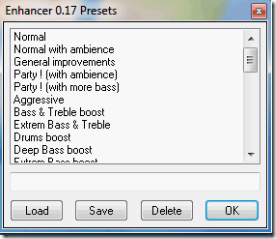 At the bottom of its window click on the "Presets" tab and you will see lots of presets like "General Improvement" "Party with Ambience" "Treble boost" "Bass Boost" "Treble and Bass Boost" "Deep Bass" etc.
The best part about Enhancer is the "Boost" feature. This is useful if all your Audio file sound is of lower Db. By clicking on this tab at the bottom of its window you will see a small green light at the side of the button when its active, this really boosts the over all sound output.
If you are a Bass freak like me, Enhancer also has one presets aptly named as "I'm a Bass freaK

" you can try that (Hopefully your speakers can handle that).
You can have your custom presets and save it too. Enhancer has a total of 10 sliders which you can adjust, to make your music sound just the way you want it to. The top slider is the Volume control slider which automatically controls your music volume output, a great feature if your Audio files are not optimized to have the same volume Db.
As far as Sound adjustment is concerned like the Treble, Bass, Drum bass range, Ambience etc. is a matter of personal taste .
My personal best custom preset for Enhancer plug-in is as follows, Volume at level 7, Harmonic bass at 5, Harmonic bass range at 5, Drum bass at 5, Drum bass range at 4 or 5, Dry signal at 10, Harmonic treble at 10, Harmonic treble range at 8, Ambience at 3 and Ambience range at 5. I have a decent Altec Lancing MX 5011 Desktop speakers and these settings works great. Try these settings and see the difference, you will never go for another DSP plug-in,to make WinAmp sound better.
NOTE: Enhancer winamp DSP plugin has some compatibility issue with windows 7, 64 bit. but it works. The only problem I found was that the saved custom presets gets lost once winamp is closed, but that's a minor glitch  (for me) considering the better sound I get.
UPDATE: The compatibility issue of Winamp Enhancer DSP plugin has been fixed with the release of "Enhancer Wrapper". Now you can save your own presets and registry error message has been fixed. You can read the detail review and download Enhancer wrapper  from here.
Download the Latest Version of WinAmp
To make all your MP3 files have the same Db. Normalize all MP3 files to sound better you may like to read this post "MP3 music sound file Normalizer"

---
Posted By: Ben Jamir
Ben Jamir is the Founder and Author of Tipsnfreeware. He is a part time Blogger, sharing his experience and giving a Helping hand to Home users. You will find here the best Windows Tips,Tricks and quality Freeware.