Top 10 tips on : How to Make your PC RUN Faster for free, Part 2

(contd)
Continuing from my last post on "How to make your PC run faster for free" Part 1, where I have listed 5 Tips. In this post let me share the remaining 5 tips on how to make your PC run faster for free.
TIP No.6 on: How to make your PC run faster for free:


Find and turn off all unnecessary start up programs.
By default when windows starts, many programs starts  and runs in the background even when they are not being used.This makes your computer a long time to boot. A great example is the MSN messenger, these automatically starts when your system boots. Another example is the Task scheduler, if you are not in the habit of scheduling specific task to be performed at a predefined time, windows task scheduler is pointless to run in the background.
You can easily control which programs to start when windows starts up with windows "msconfig" command. But since most home users are uncomfortable to use windows command prompt and mess with windows system files. You can use this freeware on How to manage windows start up programs, to speed up windows. 
TIP 7 on: How to make your PC run faster for free:
ADD RAM TO YOUR SYSTEM
There is no question to doubt this fact that "More RAM, faster will be your computer"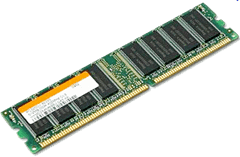 Adding more RAM(random access memory) will make your computer faster, specially when run memory intensive tasks like photo editing,video editing,opening multiple web pages etc.You may not notice any visible difference during your normal activities like web surfing or running your word processor program. Every program consumes memory. More open programs means windows has to allocate memory as per needs.
Besides your Application, the operating system itself reserves memory for its own functions. If you have installed windows 7,  minimum requirement is 1GB RAM even for the most basic functions.
Basically every program you open is using your installed RAM. Now a days RAM is inexpensive so invest on it,you wont regret. How much RAM ? will be on the individual preference and usage pattern to decide.
TIP No.8 on : How Make your PC run Faster for free:
USE OF EXTERNAL HARD DISK: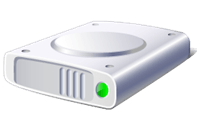 If you have a lot of collections of Music,Videos,Pictures etc. it will be wise on your part to invest on a external hard disk.Now a days external HDD with capacity up to 1TB is affordable and doesn't cost you a fortune. The Idea behind ? Transfer all your above mentioned files on to your external HDD, which will not only free up your main HDD space but also make your PC run faster.Your system performance reduces as soon as you use over half of your hard disk space. An external HDD not only helps you to store your files but is also portable and you can plug on to any PC to share your files easily.
If you are anywhere over half you may want to consider an External hard disk, to transfer you files to the external HDD freeing up space. This will do wonders for your computer and is one of the best ways to make a Computer run faster.
TIP No.9 on: How to Make your PC run Faster for free:
OPTIMIZE WINDOWS.

You can optimize your computer in several ways.The visual effects that comes loaded with windows XP,Windows vista,windows 7 does make your desktop look pretty, but at the cost of your system resources.By disabling these effects you can regain a lot of system resources to make your computer faster.
1. Go to control panel- click on System- than click on the Advanced system setting- than system properties- Advanced tab.
Under Performances – settings- and than disable the following options, as shown below pic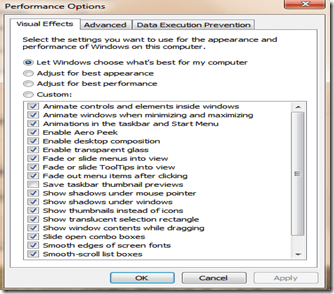 Uncheck:- Animate windows when minimizing and maximizing

Animations in the taskbar and start menu

Enable Aero peek

Enable transparent glass

Fade or slide menus in to view

Fade out menu items after clicking

Show shadows under mouse pointer

Show shadows under windows
There are other items also which can be safely disabled to save system resources. 
TIP No.10 on: How to Make your PC run Faster for free:
Install Anti Virus
Install a Good Anti virus program and scan your system periodically to detect and weed out all the viruses you may have.
This tip is quite obvious, but still there are many out there who run around the internet unprotected. Even though this is one of the most known thing to every internet user, still I thought I will put this too in this tip anyway.
There are many Anti- viruses available for you to choose both paid ones and free ones.One thing I can confidently tell you is that not a single Anti-virus can give you 100% protection.New viruses are released almost everyday, so its very important to keep your anti-Virus program updated up-to-date to get the full protection. Besides Anti-virus , you must also install Firewall,Spyware and Adware removal tools, as a extra layer of protection.
There !! you have the top 10 tips on How to Make your PC run Faster for free.
Did you enjoy reading this post and the earlier one?Is there any other point you know and like to share ? Just leave a comment.You can subscribe to my free E-mail notification and FEED
Suggested Reading : How to make your PC run Faster Part-1.
Posted By: Ben Jamir
Ben Jamir is the Founder and Author of Tipsnfreeware. He is a part time Blogger, sharing his experience and giving a Helping hand to Home users. You will find here the best Windows Tips,Tricks and quality Freeware.