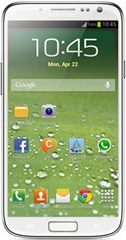 Two ways to delete or merge duplicate contacts on Android. 
When I transferred my contact list as business card from Nokia to my new Android. What baffled me is that all my contacts had two or three entries (duplicates).
No matter how hard I tried I could not sort it out. I had two options, either manually delete the duplicates(not feasible) or merge duplicate contacts on the android phone.
TWO WAYS ON HOW TO MERGE DUPLICATE CONTACTS ON ANDROID:
If you have a Google account, Android devices can sync contacts from sources like Google, Twitter, Facebook, etc. All your contact lists are automatically saved in Google contacts.
Over and above the feature of social media syncing is a significant boon for users by providing additional details like email address, contact image, etc without the user's manual effort, this has brought along another menace of duplicity.
So it's very likely that you will end up with two or more different contact records for a person, one containing an email address and primary number while another one containing work number and image. 
Here lets discuss how to merge duplicate contacts on Android to create a uniformity of contacts on the device as well as on your online contacts database.
1. Merge Duplicate contacts on Google Contacts list:
If you have a Google account, its most likely all your contacts on android are saved on Google contacts. In that case to merge duplicate contacts on Android is a very easy task.
Just open Google Contacts homepage on your computer browser and log in using your Google account used on Android device.
After logging, click on the My Contacts on the left sidebar this will load all the contacts you have on your connected devices.
Now put a check mark on the box to select all your contacts. Once you do that Google will display more options. Click on the "more" option and from the drop down menu click on "Find and merge Duplicates".
As shown in the image below. Google will scan through contacts and display the result. If duplicate contacts are found, it will group and display all of them in a pop-up frame and ask you as to which of them you would like to merge.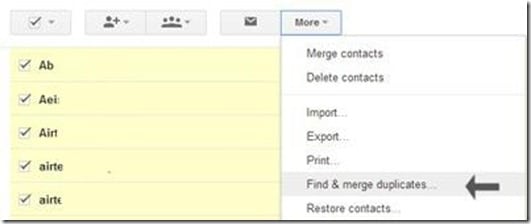 Although I have seen there is no need to cross-verify, you may still verify which contacts are to be merged and then click on the button Merge to perform the changes.
The contacts will be merged. And next time your phone syncs with Google contacts, you will have a merged contact list. Very simple way to merge duplicate contacts on android.
2. 2nd Method: Merge Duplicate contacts on Android:
This method is for those who doesn't have Google account to sync and merge duplicate contacts on Android. You can do as, on the phone itself using a free app.
There are many free apps that can detect and delete duplicate contacts but to merge duplicate contacts on Android, effectively, I found Go Contacts EX app the most easy and reliable to merge duplicate contacts on Android device.
Go Contacts Ex app is basically an overall Android contact manager and dialer which acts as a second contact manager.
After installing, launch Go Contact EX app and tap on your phones extra options to reveal more options of Go contacts EX . From there select Merge option. The app allows you to select search condition. You can search by Name, by number, by e-mail. After that click on OK.
The app will scan all your contacts and show you a list of duplicate contacts. From the result you can safely merge duplicate contacts on android with this free app. Screen shots of the app is shown above.
So these are the two TIPS to find and merge duplicate contacts on Android devices. If you know of a better app which can do it better, do share with us.
Ben Jamir is the Founder and Author of Tipsnfreeware. He is a part time Blogger, sharing his experience and giving a Helping hand to Home users. You will find here the best Windows Tips,Tricks and quality Freeware.