HOW TO Monitor your Hardware temperatures:             
Maintaining and 
Monitoring
hardware
temperatures
of your Computer is very important if you want your PC to perform in
TOP SPEED.
This becomes much more important when you perform resource intensive tasks like, audio, video, photo editing etc.every component in your PC heats up. Specially the Processor,chip and the memory, with poor air circulation your system will
slow down.
 So Monitor your Hardware temperatures, regularly to avoid sudden system crash and also to prevent hardware failures that may occur due to system overheating.
A overheated system can create so much problem that even a expert tachy will be confused.From system slowdown to sudden shutdown and start up.Monitoring your computers internal Hardware temperatures is very important not only for the system to run smoothly but also to prevent hardware failures.
So than how to Monitor your Hardware temperatures
. SpeedFan
is small application that shows your systems fan speed, voltage and chip temperature, helping you to monitor your hardware temperatures constantly.
It monitors temperatures from various sources, allowing you to adjust the speed fans based on the degrees Celsius that your hardware indicates. SpeedFan also has the capability to monitor S.M.A.R.T. readings for EIDE, SATA and SCSI hard disks and RAID controllers.
Installing SpeedFan is a simple operation that requires only a couple of seconds. Its tabbed interface allows you to view the information in categories, while the system tray indicator displays the temperatures from the hard disk and cores.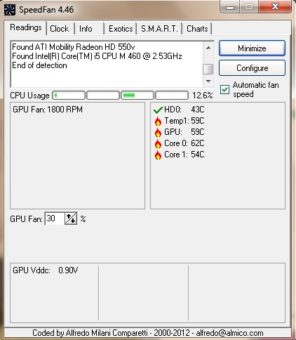 SpeedFan also shows the CPU usage and allows you to configure the fan and voltage settings in according with the detected temperatures. In addition, it offers you the possibility to adjust the CPU clock values based on various CPU usage scenarios.
The most important feature of Speed Fan is the S.M.A.R.T. feature,which performs an in-depth analysis on your hard disk and reports various indicators of reliability, thus enabling you to anticipate system failures.
In short, SpeedFan offers you extensive CPU and hard-disk temperature info and allows you to control fan speeds for the proper functioning of your computer hardware.


As a caution, SpeedFan is an application for the power user, because it has the ability to change the clock speed of your processor,if done wrongly will fry your system. For the beginner, it's better to leave that section untouched, unless you know what you are doing.
Having said that, all in all it's a nifty software, that monitors and shows the fan speed and temperatures of your graphic card, core processors,HDD etc.A utility which can help you to pin point problematic area (over heating) which may require a simple remedy like changing the Processor fan.
Here are some key features of "SpeedFan":


· handle almost any number of South Bridges
· handle almost any number of hardware monitor chips
· handle almost any number of temperature readings
· handle almost any number of voltage readings
· handle almost any number of fan speed readings
· handle almost any number of PWMs


It's a freeware download SPEEDFAN.
Posted By: Ben Jamir
Ben Jamir is the Founder and Author of Tipsnfreeware. He is a part time Blogger, sharing his experience and giving a Helping hand to Home users. You will find here the best Windows Tips,Tricks and quality Freeware.