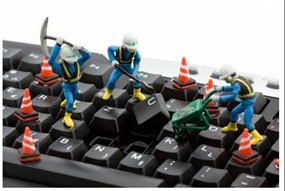 (Updated)
How to optimize system performance, reclaim hard disk space, beef up your system security, tweak your windows for faster response and much more. which you can not achieve from windows control panel.
Lets face it, we all hate it when our computer system fails to work or simply just does the opposite of what it was designed for. These System Optimization software will make your PC run smoother and optimize system performance.
Regular system maintenance and optimizing system for peak performance, is something many users ignore, either because they aren't aware of it  or just don't know how to go about it. And in 90% of instances (if not more) this is the main reason why a system slows down or crashes, events which could have been easily prevented, if only we spend a few minutes to maintain our system at regular intervals.
You can breath fresh life in to your system if you tweak and optimize system performance settings for top notch performance.
There are specialized utilities which provides a very convenient way to optimize system performance and tweaking too. Today we share with you, two FREE tools. These tools can tweak and optimize system performance. The best among freeware categories.
WinBubbles  : Customize and tweak your Windows with ease
Ccleaner : Optimization and cleaning software
WinBubble:
WinBubble is perhaps one of the best Windows tweaking tools out there.A freeware to optimize system performance. The software has evolved so much that the task to tweak your system has been made easy and not to mention that most of them come with backup tools so you're safe as well.
This utility lets you change/ tweak everything about your operating system be it Windows XP or 7. The user interface initially may appear intimidating but the features are nicely organized in the main window as tabs. The tweaks are provided in the form of check box options, so all you have to do is to check the options and click on the "Apply" button.
The "General" tab has multiple options like explorer context menu, desktop customization, hide drive, remove the shortcut arrow. "Windows 7" section gives you the power to change and tweak many features of windows 7, which is beyond the scope to be included in this article.
Most notable features are you can disable desktop composition,block windows animations,disable failed DNS caching, increase the bandwidth for network and internet connection.
The "security" tab allows you to enable or disable access to critical items such as control panel, display settings, writing to USB flash drives, external drives etc.
Overall WinBubble has tons of features, which will need some time to discover all of them. So I recommend you to explore this super utility for your system tweaking and increased performance. But remember all actions applied takes effect only after a system reboot (not a big deal).
Ccleaner: 
Another great FREEWARE for system cleaning, Registry cleaning and overall system optimization. A must have tool to optimize system performance.
After you have tweaked your system with WinBubble, now open Ccleaner to clean and remove all temporary and junk files. Just click on the "Analyze" button the utility does a in depth scanning and presents you with a list of files along with the size also. You may need to close all your open files and browser for the utility to find and delete temporary internet files and cookies.
The Registry cleaner part of this utility does a good job of scanning your registry for any invalid registry entries like deleted links, registry entries of programs already uninstalled from your system.
This software also has a built in uninstaller through which you can Uninstall programs , it also allows you to control which programs to start at startup and you can also disable any program from the start up list, to optimize your system to load faster.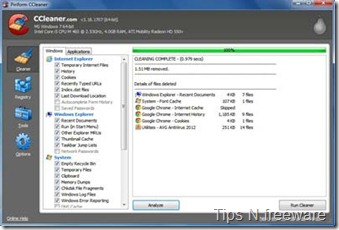 Make use of these quality FREEWARE's, tweak and optimize your Laptop and Desktop and see the difference, what little maintenance can do to boost your systems performance, at the end both you and your Computer will be Happy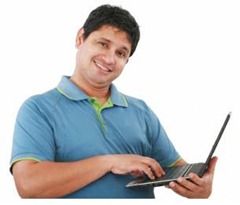 For further system enhancement and speed you may like to read this article on "How to speed up your PC with windows ready boost feature"
Ben Jamir is the Founder and Author of Tipsnfreeware. He is a part time Blogger, sharing his experience and giving a Helping hand to Home users. You will find here the best Windows Tips,Tricks and quality Freeware.