How to password protect and lock folders in windows, containing sensitive documents. You may have important and sensitive documents in your PC and want to protect it from prying eyes.
Password protect and lock any folder in windows with this freeware. Systools folder key is a small and very efficient tool to password protect and lock folders.
HOW TO PASSWORD PROTECT AND LOCK FOLDERS:
Download the freeware tool (download link given below) and install it. When you open the program it shows some related links.
Click on the "Lock / Unlock" menu tab.


On the next window click on the " Folder locking" radio button, it should be active by default…… Now click on next at the bottom.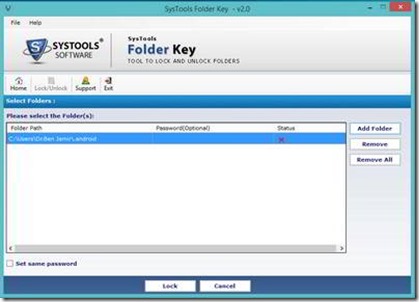 On the next window click on " Add Folder" tab. This will open windows explorer, browse and select the folder you want to password protect. The selected folder path will be shown instantly.
Double click on the "password" field and enter a password. Than click on the "Lock" button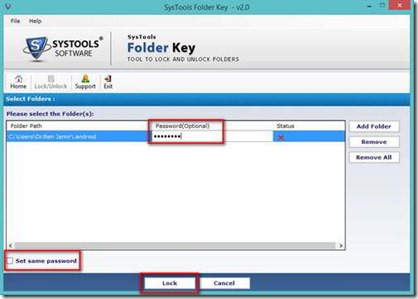 Your selected folder is now locked. To check, close the application and browse to the location of the folder. The locked folder will show a small yellow lock symbol. Even if you click nothing will happen, since its locked, the folder won't open.
There is also an option to set same password for all the folder that you lock. If you are locking too many folders, it will be wise to enable this option. Since you might forget the password for every folder locked.
HOW TO UNLOCK LOCKED FOLDERS:
Open the tool, click on the lock / unlock menu, and in the next window, this time click on the "Folder unlocking" radio tab and click next. The locked folder will be shown.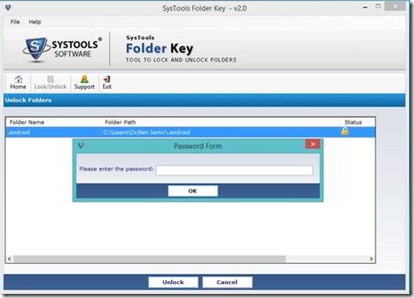 Click on the "Unlock" button, a password form will open. Enter your password, click OK and the locked folder will be unlocked.
IMPORTANT FEATURES:
Block a Complete multiple file storing Folder with desirable password
Dual Option for Folder Protection: Folder Locking & Unlocking
Unblock all the password protected Folders at once in batch
Option to set same password for all folders selected to block
Works on all Windows OS: Windows 8.1 & below versions
CONCLUSION :
In conclusion, this program is small in size, and easy to use. Useful if you want a simple free tool to password protect and lock folders, keeping sensitive documents in a  locked folder. However this is not a foolproof method, since it doesn't encrypt the locked content.
Download the latest version of Systools Folder Key.
Posted by Ben Jamir
Ben Jamir is the Founder and Author of Tipsnfreeware. He is a part time Blogger, sharing his experience and giving a Helping hand to Home users. You will find here the best Windows Tips,Tricks and quality Freeware.