Protect USB drives from viruses                            
    

 
Viruses and worms exploits the vulnerability of USB Flash drives and more so the Pen drives.
USB thumb drives have become a common commodity and this fact is actively being exploited by criminals. Most often you might have found that your system gets infected with viruses and worms, after you have USB pendrive is plugged in from unknown source.
Specially while sharing files, like documents, MP3 files,photos etc. This infection can quickly spread from one system to another. If the infected USB drive is exchanged between colleagues and friends.
Top 3 (Three) Free Tools to Protect USB drives from Viruses
Here are 3 top FREE software's which can efficiently protect USB drives from viruses, and also your system from unknown threats and viruses.

This software Write protects your
USB drives from viruses.
 Which means it allows only data to be accessed from your USB drives. Doesn't allow any data to be written on it. This is a very powerful feature and will be of help to protect your USB drives from viruses, when you plug it on a infected system. 
Effectively protect usb drives from viruses.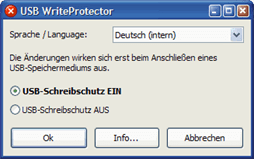 Small in size, doesn't need any installation, just download the program (Choose English version) and run the program.
You will get two options "Enable write protection" in your USB drive or to "Turn off the USB write protection". As simple as that, you just need to pick the option to enable and protect usb drives from viruses.
This software protects your system, by instantly alerting you, if it finds any type of malicious program on the USB flash drives.
After installation, the program runs in the background, and its window pops up only if it finds a malicious program which try to launch itself from a USB drive.
 It is not an anti virus, so it can not clean a virus if your system is already infected.
 USB Firewall, also can clean your system from auto launched programs if such a program resides in your other partitions of the hard disk. You just need to click on "Clean all Partitions" button.
How it does is, the program scans the drive and warns you if any malicious program tries to launch itself. Than the program pops up and gives you three option either to "DELETE" "STOP" or "REMOVE THE PROGRAM" and all its associated files .
According to your selection the program perform and you can minimize the program which remains hidden, monitoring your system in the background.This program has the ability to scan all your partition's and delete auto launched programs and the respective auto run files.
Download USB FIREWALL.
USB Guardian is another application, that prevents your computer from getting infected from nasty viruses and worms. USB guardian blocks any program, that tries to get automatically executed from pen drives. It isolates the auto run files.
With this application installed, you can safely enjoy file sharing.The program interface is very clean and well organized, you can access all function's with minimum effort.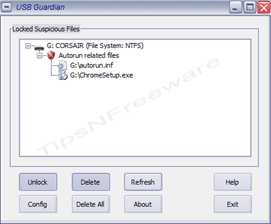 Download USB GUARDIAN

All these are excellent software to protect USB drives from viruses, and also Memory cards from viruses and malware infecting your USB drives and your computer. You can choose what's best for you and use it.
MORE ARTICLES YOU MIGHT LIKE
Ben Jamir is the Founder and Author of Tipsnfreeware. He is a part time Blogger, sharing his experience and giving a Helping hand to Home users. You will find here the best Windows Tips,Tricks and quality Freeware.