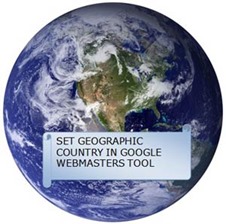 If you want to, you can set Geographic target country in Google webmasters tool, for your Blog or Website. This is useful if you are writing on topics, targeted for a specific country.
Google webmasters tool has a set of extremely useful tools and utilities, specially for bloggers and those who manage web sites.
Having said that, if you are a blogger or manage a website, Google webmasters tool allows you to set a geographic target area for your website as per your choice. 
Set Geographic Target Country In Google Webmasters Tool
Setting Geographic target country for your Blog or website, has its pros and cons. But that's a different topic.
For a webmaster, Google webmasters tool has many useful utilities, from basic to optimizing your site for SEO, to complete analytic report. Setting geographic target country is just one of them.
So lets know more about how to set Geographic target country in Google webmasters tool.
Watch the Video:

First go to Google Webmasters tool, and log in with your Google account. Google will display all your websites (if you have more than one). Choose and click the Blog or website for which you want to set a specific geographic country.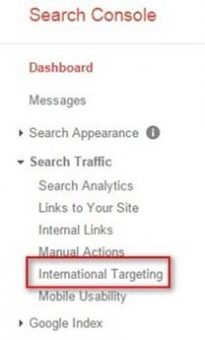 On the left side click on the "Search Traffic" to expand.
Under it click on "International Targeting"
In the "International Targeting" page. Click on the Country Tab.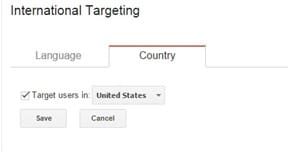 In the Country page, put a check mark on "Target users in".
This will activate the country list and Google will give you a list of countries as a drop down option.
Choose  the country you want to target and than click on save.
That's it, you have just set Geographic target country in Google webmasters tool.
What does this mean ?. When you set geographic target country in Google webmasters tool, lets say you set USA as your geographic target country. What happens is, Google will pay more importance for your website in search results in the USA.
So your site may begin to rank higher in SERP delivered to readers in the USA. And you will get more organic traffic from USA.
As simple as that, but also remember, your website rank will start declining in Google SERP in all other countries. 
But there is a downside of setting up Geographic Target Country for your Blog or website. Before you set it, know the Good and the Bad effect of setting Geographic Target in Google.
Ben Jamir is the Founder and Author of Tipsnfreeware. He is a part time Blogger, sharing his experience and giving a Helping hand to Home users. You will find here the best Windows Tips,Tricks and quality Freeware.