How To Setup BSNL Wimax Outdoor Unit : For Optimal RSSI and CINR Values. 
Wimax is a acronym and it stands for (Worlwide Interoperability for Microwave Access ). Wimax is a unique technology deployed first time in India by BSNL. Wimax technology provides fixed as well as mobile, high speed Internet connectivity along with roaming facility.
BSNL Wimax provides three different type of connectivity CPE (Customer premises equipment).
Indoor : Best suited for home/ office users.
USB Dongle : Can be connected directly to PC/Laptop via USB port.
Outdoor CPE: Best suited for rural areas and in areas where signal strength is poor.
Installing and setting up Wimax is pretty simple and straight, specially if you are using Indoor CPE or a USB dongle. But not so with a outdoor CPE, if the signal strength is weak.
HOW TO SETUP BSNL WIMAX OUTDOOR UNIT:
(UPDATE: Since the outdoor unit will be outside. On the Status > Device set up window of Wimax, at the bottom click on      " Auto" to activate it. So when you are adjusting the direction the values of RSSI and CINR will be automatically updated, instead of you requiring to click on the Refresh button, again and again. Better still if you have a wireless router connected to the Wimax , you can use your Phones Wi-Fi to check the signal strength.)
Setting up a indoor wimax CPE is straight and simple. The indoor modem has LED indicator which makes it easier to know about the signal strength and Internet connection.
However the BSNL Wimax outdoor unit does not have any such indicator. So this makes it difficult to know the signal strength and signal quality. More so if you don't know the direction of the BTS tower.
If you have faced this situation, just follow this simple guide to setup BSNL wimax outdoor unit. First of all fix the outdoor unit firmly on a pole and place it on the roof top (preferably). Make sure that there is no obstructions, like near by trees or tall buildings.
Assuming you have connected both the indoor and outdoor component, with the cable provided. Now connect it to your PC or Laptop with the LAN cable. Switch on the power supply. Since there is no indicator light, don't expect to see anything on the indoor component except the power on green light.
Open your web browser and type the Wimax IP address in the browser address bar. Which is usually 192.168.254.251 than press enter. By default the user name and password is Admin (please check the manual, it could be different). Login and you will see the Wimax setup window.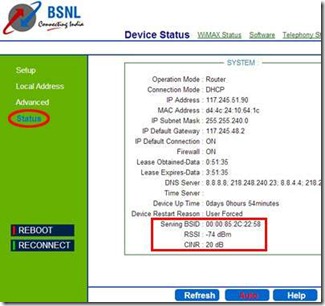 On the left option click on the "Status" tab. You will see all sorts of information. Scroll down , our main concern here is the value of RSSI and CINR values.
RSSI stands for :Received signal strength indicator.This value shows  signal strength of wimax.
CINR stands for: Carrier to interference + noise ratio. This value shows signal to noise ratio, quality of signal.
Acceptable values for RSSI and CINR is. RSSI should be between –50 to –85 dBm,  lower the value, better is the signal strength. So you want the RSSI to be closer to –50.
CINR value should be between 10 to 30 or 40 dB. You should try to have CINR close to 30. But any value of 20 or more is good.
Check these values. If its not close to optimal values, slowly change the direction of the outdoor unit. You may have to wait for a few seconds for the unit to get the signal and see the changes in the values. Once you get the optimal values tighten the unit firmly, so that it does not move.
Now on the top menu click on the "Wimax Status" and you will see this window.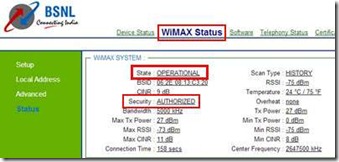 It should show State as "Operational" and Security as "Authorized".
That's it, you are now connected to Internet. You can easily setup a home network with a router to share Internet connection of BSNL Wimax
NOTE: If there are more than one BTS tower. Try to position the outdoor unit such a way that it receives signal from one BTS tower. Normally there should be seamless change over between towers or you may experience random disconnection and re connection. BTS tower ID you will know from the "Serving BSID" number.Remember the BSID number for future reference.
Without the indicators, there's no way to know and adjust the outdoor unit direction.
In areas where the signal is poor, follow this simple guide to setup BSNL Wimax outdoor unit.
Ben Jamir is the Founder and Author of Tipsnfreeware. He is a part time Blogger, sharing his experience and giving a Helping hand to Home users. You will find here the best Windows Tips,Tricks and quality Freeware.