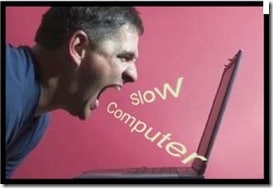 (updated)
How to speed up slow computer and improve its performance? Its frustrating when we have to work on a slow computer. Its not only difficult but time consuming to work on a slow computer which indirectly affect productivity be it at home or in office.
The problem of a slow computer could be hardware related too. But in more than 90% of the cases the problem lies with the PC itself.
A non optimized system can not only be slow but show some weird problems like sudden freezing, sudden system crashes, blue screen problems, system error messages etc. The problems could be manifold but one answer to speed up slow computer and improve performance.
HOW TO SPEED UP SLOW COMPUTER AND IMPROVE PERFORMANCE:
WINMATE is a FREEWARE and easy to use application to speed up slow computer and improve performance. With just a few clicks, it scans your computer finds and fixes errors. Offers solutions with a wide range of powerful utility for optimizing to speed up slow computer.
During installation WinMate checks for any latest update and downloads it if necessary ( a good feature). T55 the maker of this tool promises that winMate is "Free forever" including all future updates. Now that's a very comforting assurance.
SOME KEY FEATURES OF WINMATE:
 WinMate provides four classical and effective methods to speed up slow computer and optimize with just a few clicks.

Automatically scans and repairs your system registry.

Winmate scans and fixes your system files, the most common cause of a slow computer and protects your windows system form crashing, freezing.

Winmate also checks your hard disk for any errors and defragments your disk re-arranging files on your disk and improves your PCs performance.

Winmate also has a memory tweak utility which can recover and free up used memory.

FIXES SLOW STARTUP: Winmate checks for all start up programs, disabling services which you don't require. Thereby considerably improving your systems boot time, to speed up slow computer. Winmate scans  and lists all start-up programs which you can selectively disable, making your computer boot faster and improve performance.

WinMate also has a bunch of very useful tools like File wiper, Drive immunizer, Program uninstaller. The IE tools section included with winmate cleans and optimizes Internet explorer. Scans and removes any malicious plugins that may slow down your computer.

A Note of Caution: Like with any other system optimization application, with WinMate too we recommend double-checking before performing any major clean up operations on your computer. Specially while dealing with registry and system files cleanup. Even though the program is quite safe and if used wisely WinMate can help speed up slow computer and improve performance.
       You can Download the latest Version of WinMate Here.
SUGGESTED READING:

1. Which is more important CPU speed or Memory.
2. Speed up windows with Ready boost feature.
3. How to make your PC run faster.
Posted By: Ben Jamir
Ben Jamir is the Founder and Author of Tipsnfreeware. He is a part time Blogger, sharing his experience and giving a Helping hand to Home users. You will find here the best Windows Tips,Tricks and quality Freeware.