Windows Live Writer,Text Template! How to use it
. Windows Live writer is one of the best desktop software for bloggers. Sometime back I wrote a post "5 Reasons why a Blogger should use Windows Live Writer". This is one Blogging software, which allows you to write your blog offline and also preview it exactly as it would appear live on your blog. You can make all changes, insert images , videos , save it as draft , preview it and publish it directly to your blog from windows live writer interface. 
Having said that, there are plenty of Plugins available for WLW, which makes your blogging much more easier and one of such plugin is the "Text Template". I feel this is one of the most useful plugin for WLW and every Blogger using WLW must have this Plugin installed.
The Text Template plugin of Windows Live writer enables you to reuse of text , HTML, and snippets, which you use regularly on your post. This plugin enables you to insert these on your blog post with just a click instead of typing the same text over and over again. You can use this Plugin for inserting small text to large text templates, Images, etc. on your blog page.
How to use Windows Live Writer Text Template Plugin:
First Download the Text Template Plugin and install it. The plugin automatically gets installed on your windows Live writer plugin folder (assuming you already have WLW installed)
Open WLW and type what you would like to insert as an example (shown below) I have made a simple template.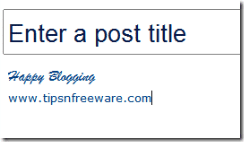 Now at the bottom of WLW window click on the "Source" button. Shown below.

Windows Live Writer will display the complete HTML version of what ever you wrote, including the font size color and type. In my case, the source code is shown below.

Now copy this code. Click on the "Home" tab of WLW and at the top menu click on the "insert" menu

From the Plugin list select the "Text template" plugin and you will see the plugin window.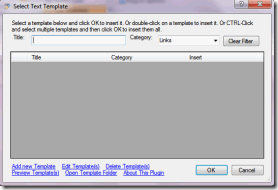 Here at the bottom click on the "Add new Template"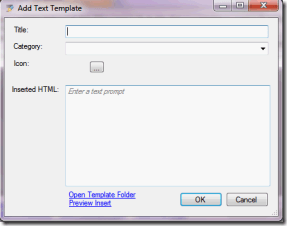 You will now get the " Add Text Template" window. Under the "Title" give a name to your text template. Under category you can leave it blank or choose a category if you plan to have many templates.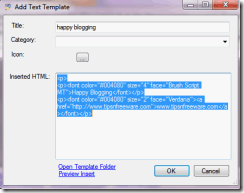 Now in the "Inserted HTML" window paste the source code you copied earlier. Than click on OK and save the template. Windows Live writer Text template stores its snippets as XML files and by default saves in your My documents folder\windows live writer\text templates.
That's it. Next time when ever you need to insert your text template, just go to insert , select text template plugin and from the plugin select template name and click on it, your text will be inserted automatically on your post.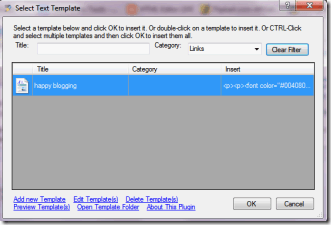 Windows Live writer "Text Template" Plugin is a great time saver for all those text and snippets you insert on your posts over and over again. In short this plugin can only get better and better, if only we know how to use it. 
It took me sometime to know and understand its usage. So sharing this with you, hoping this post will be of help to all windows live writer users. As an example here's one template.
Happy Blogging
Just one click ! Isn't that really easy ? Try it, you will love it. Your comments and any suggestion are welcome.
Posted By: Ben Jamir
Ben Jamir is the Founder and Author of Tipsnfreeware. He is a part time Blogger, sharing his experience and giving a Helping hand to Home users. You will find here the best Windows Tips,Tricks and quality Freeware.