If you own a Blog or a website, and have not verified the ownership with Google webmasters tool. Than here is a step by step guide. The easiest way to verify ownership of website with Google Webmasters tool.
Why To Verify Ownership Of Website With Google?
Although it is not a must to verify ownership of website with Google Webmasters tool, for sites performance. Yet we must know that Google is a search engine giant. And letting Google know that you are the owner of a particular Blog or website, gives you many advantages.
For example you have direct access to search engine traffic analysis, bots crawl status, indexing status report, search queries, website security issues, Submit your sitemap, and many more. These reports are of tremendous help to improve your sites performance.
Easiest way to Verify ownership of website with Google Webmasters Tool:  
Step 1: Log on to Google webmasters tool. The best thing about Google is, one Google account is enough. So if you have Gmail account, you can log with that.
Step 2: In the webmasters tool page > Click on Add a property ( earlier it used to be Add a Site). In the Add a property Box type the website URL. Type the full URL like http://www.example.com. And Click on > Continue.
Step 3: Google will Add your Blog / website, but will also show the information that the ownership not yet verified. Google will ask you to Verify ownership of the site you added. See the image below.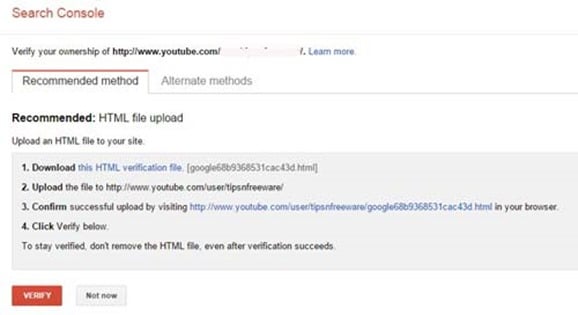 Step 4: There are Two methods > Recommended Method and Alternate Methods. I prefer the Alternate methods, its easier, so click on the Alternate methods tab. You will see these options.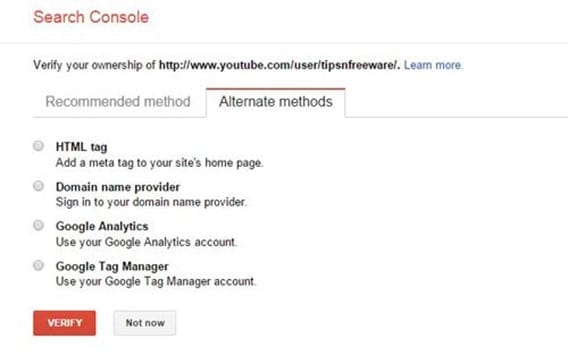 Step 5: Click on the First option HTML tag. Once you click on it Google will display a HTML Tag, which you need to copy and paste in your sites HTML doc. Copy that HTML tag. DONOT LOG OUT OF GOOGLE WEBMASTERS TOOL PAGE NOW.
Step 6: Now Log on to your Blog site Dashboard. In blogger BlogSpot click on > Template > In the template page click on Edit HTML.
Step 7: In the HTML version of your Template search for the <head> tag. It will near the beginning. Paste the copied code just below or after the <head> tag. As shown in this image below   

So the HTML tag code you copied from Google Webmasters tool will look like this <head> "all the codes you copied in Google webmasters tool"/>. After pasting the code save your template.
Step 8: Now go back to Google Webmasters tool page, where you copied the HTML tag code. In the same page at the bottom now click on "Verify". Google bot will crawl your Blog / website and will display this message. And you are done.


This verification is a one time process only. Just keep the HTML code in your template. Just remember if you change your template, you will need to copy the code and paste it again.
I feel this is the Easiest way to verify ownership of website with Google Webmasters tool. But if you feel comfortable with other methods, that's OK as long as Google gives the nod.
Once verified ownership with Google, you will be able to access many information's about your site. 
Ben Jamir is the Founder and Author of Tipsnfreeware. He is a part time Blogger, sharing his experience and giving a Helping hand to Home users. You will find here the best Windows Tips,Tricks and quality Freeware.