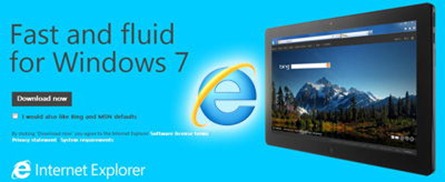 The Latest and the most popular web browser Internet Explorer 10 for windows 7 is finally released by Microsoft for windows 7 users. Internet Explorer 10 for windows, was initially made available with Windows 8, the latest version of windows OS. Very recently a complete and stable version of Internet explorer 10 has been released for windows 7 users to fully explore its features.
Like all the previous versions Internet explorer 10 for windows, is a Freeware and can be downloaded easily from Microsoft's official site. After installation it will ask for a system reboot. Reboot your system and enjoy the full potential of this brand new web browser IE 10 from Microsoft.
What's the Difference with Internet Explorer 10 ?
At first glance nothing much. Internet explorer 10 for windows, looks the same as previous versions. The same look and feel, same tool set, this basically gives you a feeling of a familiar browser so you don't get confused with the tool set.The main features and additional improvements in IE 10 as per Microsoft is …..Source
1. FAST AND FLUID:
    Internet explorer 10 for windows, can harness the untapped power of your PC delivering web pages fast, full of vivid graphics, smoother video and better interactive content.It brings a fluid responsiveness to the web that feels totally new. Everything you want to do on the web is a swipe, tap, or click away.
2. PERFECT TO TOUCH:
    You can enjoy this feature if you are using windows 8. Truly full-screen browsing: Navigation controls appear only when you need them and quietly get out of the way when you don't. Internet Explorer 10 for windows lets you flip ahead or back through your websites with the flick of a finger.  Tabs for frequently visited sites are over sized for easy tapping.
3: SAFE AND MORE PRIVATE:
Internet explorer 10 for windows helps to keep your PC and your personal information's safer on the web with the industry-leading Smart Screen technology that helps to protect against socially-engineered malware. If you are upgrading from an older version of IE your settings will automatically be saved and you can even check any Add-on compatibility issues. Privacy tools like Do Not Track are built-in and can be turned on in one click.
Notable Features of Internet Explorer 10 for windows:
Extends the functionality of IE 9 with respect to CSS3 and HTML5 support.

High speed internet browsing

Faster loading of web pages.

Safer net browsing

Chrome feature : displays the frequently visited websites on a new page

Do not track enabled

Available in 11 different languages.




CONCLUSION:

Internet Explorer 10 is fast and provides safe browsing experience, integrates seamlessly with your windows 7 PC.

NOTE:

You will need to install Windows 7 SP1(service pack1) to install IE 10.
SUGGESTED READING:
1. Tips to avoid viruses and Malware: A common sense.
2. How to remove Autorun.inf virus manually
Posted By: Ben Jamir
Ben Jamir is the Founder and Author of Tipsnfreeware. He is a part time Blogger, sharing his experience and giving a Helping hand to Home users. You will find here the best Windows Tips,Tricks and quality Freeware.