Trusted by Millions, Laptop Data Recovery Software

Laptops are particularly vulnerable to physical damage as well as problems that affect data integrity and result in data loss, this is especially because of their compact size and portability. Its important to keep laptop data recovery software for such an event. 
Data loss can also occur as a result of virus or malware attacks on the laptop. If your laptop is not adequately protected against viruses, and malware, you may also face the risk having all of your data gone.
Laptop data recovery software, salvages data which are accidentally deleted or from damaged, failed, or corrupted laptop hard disk. The most common scenario when laptop data recovery software is required , is due to operating system failure.
Typically seen on a single disk with a single partition and a single OS. In such cases data recovery can be accomplished by using a Live CD and move the files from system disk to a storage media.
The second most common scenario of data loss is seen due to any power outages, virus or malware infections. Accidentally deleting files or folders using the 'shift + delete" combination, where the deleted files bypasses the recycle bin. 
What are the Signs That a Laptop is Likely to Experience Data Loss:
Strange noises or grinding sound

Blue screen of death

Unresponsiveness
What should you do When Your Laptop is Failing :
Turn off laptop immediately – further operation may damage data beyond repair

Do not restart laptop

Do not install or re-install any software which may over write. 

Do not shake, disassemble, remove or attempt to clean a suspected damaged hard drive – improper handling may cause more damage
If your laptop is bootable use a trusted Laptop data recovery software. One of the most trusted and proven laptop data recovery software is Wise data Recovery Software.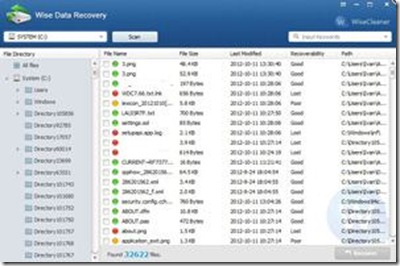 Wise Data recovery software is a freeware and used as a Laptop data recovery software too. Among all the data recovery tools that we have tested, its difficult to imagine how a un-delete tool could be as simple as wise data recovery. This laptop data recovery software just doesn't have any menus, no complicated options.
After installation all you have to do is select the drive or the partition to recover data and click on scan. Wait for the program to scan and locate any deleted files. This laptop recovery software will indicate the condition of the data as 'good', 'poor', 'very poor', or 'lost' in the scan result, to show whether or not these are suitable to be recovered. Select the files you would like to recover and than click on 'Recover' that's it.
TIPS:
Do not install the laptop data recovery software or any other data recovery software in the drive/partition from where data is to be recovered.

Do not save the recovered data on the same drive/partition from where data is being recovered. Save recovered data on a separate disk or partition, better still on external storage device.
Download The latest version of Wise data recovery FREE 
Ben Jamir is the Founder and Author of Tipsnfreeware. He is a part time Blogger, sharing his experience and giving a Helping hand to Home users. You will find here the best Windows Tips,Tricks and quality Freeware.