Latest WordPress Ping List 2013 For faster Indexing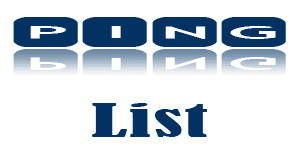 (Updated: 20 march 2015)
 WordPress ping list are necessary and very useful to extend your blog's reach to major search engines, so they (search engines) know that you have just published a new post. Without the pinging services how on earth any one will find your blog even if you write killer articles.
What is Blog Pinging ?
What on earth is Blog pinging anyway ? Initially it was something beyond me, I never understood. But over more than a year of blogging this is what I make out what Blog pinging is all about. Well A Ping is just a packet of information (notification) that is passed on from one network devices to another or services (here it is the search engines) to let them know about your newly published article/post. It's way to spread the word around about your Blog.
Think it this way,after completing your article you come out of your house and shout loudly "Hai I've just published one of my best article" so everybody in your neighbourhood get to know about that. The only difference here is(Pinging)to let all the search engines get notified about your blog post so it gets indexed faster and you get more traffic. Got the idea now ?
By default WordPress Ping List service is "rpc.pingomatic.com". But that is only one service, and its always good to update your Word press Ping list, to include more services, which will help to get your blog indexed faster by more search engines and of course more traffic.
Here is a Quick Guide to update your WordPress Ping List :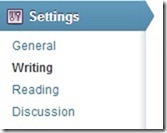 Log on to your WordPress admin page, on the left side menu under settings > click on writing > than on the right side scroll down to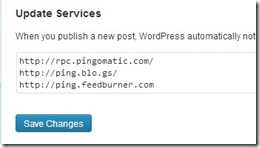 "Update Services" and in the box copy paste the wordpress Ping list services, than click "save changes". That's it.
Here is the WordPress Ping list, for 2015
http://rpc.pingomatic.com/
http://ping.blo.gs/
http://ping.feedburner.com
http://api.my.yahoo.co.jp/RPC2
http://audiorpc.weblogs.com/RPC2
http://bblog.com/ping.php
http://bing.com/webmaster/ping.aspx
http://blo.gs/ping.php
http://blog.goo.ne.jp
http://blog.goo.ne.jp/XMLRPC
http://blog.iask.com/rpc2
http://blog.with2.net/ping.php
http://blogpeople.net/ping
http://blogpeople.net/servlet/weblogUpdates
http://blogping.unidatum.com/RPC2
http://blogpingr.de/ping/rpc2
http://blogroots.com
http://blogs.yandex.ru
http://blogsdominicanos.com/ping
http://blogsearch.google.ae/ping/RPC2
http://blogsearch.google.at/ping/RPC2
http://blogsearch.google.be/ping/RPC2
http://blogsearch.google.bg/ping/RPC2
http://blogsearch.google.ca/ping/RPC2
http://blogsearch.google.ch/ping/RPC2
http://blogsearch.google.cl/ping/RPC2
http://blogsearch.google.co.cr/ping/RPC2
http://blogsearch.google.co.hu/ping/RPC2
http://blogsearch.google.co.id/ping/RPC2
http://blogsearch.google.co.il/ping/RPC2
http://blogsearch.google.co.in/ping/RPC2
http://blogsearch.google.co.it/ping/RPC2
http://blogsearch.google.co.jp/ping/RPC2
http://blogsearch.google.co.ma/ping/RPC2
http://blogsearch.google.co.nz/ping/RPC2
http://blogsearch.google.co.th/ping/RPC2
http://blogsearch.google.co.uk/ping/RPC2
http://blogsearch.google.co.ve/ping/RPC2
http://blogsearch.google.co.za/ping/RPC2
http://blogsearch.google.com.ar/ping/RPC2
http://blogsearch.google.com.au/ping/RPC2
http://blogsearch.google.com.br/ping/RPC2
http://blogsearch.google.com.co/ping/RPC2
http://blogsearch.google.com.do/ping/RPC2
http://blogsearch.google.com.mx/ping/RPC2
http://blogsearch.google.com.my/ping/RPC2
http://blogsearch.google.com.pe/ping/RPC2
http://blogsearch.google.com.sa/ping/RPC2
http://blogsearch.google.com.sg/ping/RPC2
http://blogsearch.google.com.tr/ping/RPC2
http://blogsearch.google.com.tw/ping/RPC2
http://blogsearch.google.com.ua/ping/RPC2
http://blogsearch.google.com.uy/ping/RPC2
http://blogsearch.google.com.vn/ping/RPC2
http://blogsearch.google.com/ping/RPC2
http://blogsearch.google.de/ping/RPC2
http://blogsearch.google.es/ping/RPC2
http://blogsearch.google.fi/ping/RPC2
http://blogsearch.google.fr/ping/RPC2
http://blogsearch.google.gr/ping/RPC2
http://blogsearch.google.hr/ping/RPC2
http://blogsearch.google.ie/ping/RPC2
http://blogsearch.google.it/ping/RPC2
http://blogsearch.google.jp/ping/RPC2
http://blogsearch.google.lt/ping/RPC2
http://blogsearch.google.lv/ping/rpc2
http://blogsearch.google.nl/ping/RPC2
http://blogsearch.google.pl/ping/RPC2
http://blogsearch.google.pt/ping/RPC2
http://blogsearch.google.ro/ping/RPC2
http://blogsearch.google.ru/ping/RPC2
http://blogsearch.google.se/ping/RPC2
http://blogsearch.google.sk/ping/RPC2
http://blogsearch.google.tw/ping/RPC2
http://blogsearch.google.us/ping/RPC2
http://ping.blo.gs
http://ping.blogs.yandex.ru/RPC2
http://rpc.bloggerei.de/ping/
http://ping.rss.drecom.jp
http://ping.snap.com/ping/RPC2
http://ping.speenee.com/xmlrpc
http://ping.syndic8.com/xmlrpc.php
http://ping.weblogalot.com/rpc.php
http://ping.weblogs.se
http://ping.wordblog.de
http://ping.yandex.ru/RPC2
http://pinger.blogflux.com/rpc
http://pinger.onejavastreet.com
http://pingmyblog.com
http://pingoat.com
http://pingoat.com/goat/RPC2
http://pingoo.jp/ping
http://pingqueue.com/rpc
http://popdex.com
http://popdex.com/addsite.php
http://queerfilter.com/ping
http://r.hatena.ne.jp/rpc
http://rcs.datashed.net
http://rcs.datashed.net/RPC2
http://rcs.salon.com/rpc2
http://rpc.aitellu.com
http://rpc.blogbuzzmachine.com/RPC2
http://rpc.blogcatalog.com
http://rpc.bloggerei.de
http://rpc.bloggerei.de/ping
http://rpc.blogrolling.com/pinger
http://rpc.britblog.com
http://rpc.icerocket.com:10080
http://rpc.newsgator.com
http://rpc.odiogo.com/ping
http://rpc.pingomatic.com
http://rpc.reader.livedoor.com/ping
http://rpc.tailrank.com/feedburner/rpc2
http://rpc.technorati.jp/rpc/ping
http://rpc.twingly.com
http://rpc.weblogs.com/RPC2
http://rpc.wpkeys.com
http://rssfeeds.com/suggest_wizzard.php
http://rssfwd.com/xmlrpc/api
http://search.google.com
http://serenebach.net/rep.cgi
http://services.newsgator.com/ngws/xmlrpcping.aspx
http://signup.alerts.msn.com/alerts-PREP/submitPingExtended.doz
http://sindice.com/xmlrpc/api
http://snipsnap.org
http://snipsnap.org/RPC2
http://syndic8.com/xmlrpc.php
http://tagclick.net/ping
http://thingamablog.sourceforge.net/ping.php
http://topicexchange.com
http://topicexchange.com/RPC2
http://trackback.bakeinu.jp/bakeping.php
http://veneblogs.com/ping
http://wasalive.com/ping
http://weblogalot.com/ping
http://weblogues.com/ping
http://weblogues.com/RPC
http://webmaster-talk.com/ping/66385
http://www.bitacoles.net/ping.php
http://www.blogdigger.com/RPC2
http://www.bloglines.com/ping
http://www.blogoole.com/ping
http://www.blogoon.net/ping
http://www.blogpeople.net
http://www.blogpeople.net/ping
http://www.blogpeople.net/servlet/weblogUpdates
http://www.blogsdominicanos.com/ping
http://www.blogshares.com/rpc.php
http://www.blogsnow.com/ping
http://www.blogstreet.com/xrbin/xmlrpc.cgi
http://www.catapings.com/ping.php
http://www.diarist.net
http://www.feed24.com/?c=add
http://www.feedblitz.com/f/f.fbz?XmlPing
http://www.feedgy.com
http://www.serenebach.net/rep.cgi
http://www.syndic8.com/xmlrpc.php
http://xmlrpc.bloggernetz.de/RPC2
http://xping.cc/ping
http://xping.pubsub.com/ping
http://youdao.com/ping/RPC2