Depending on the number posts, your Label list will grow.As you are at liberty to put as many Labels as you can think of for a particular post.Its said you can have as many as 500 labels for a single post (but I think no body has so far reached that figure yet).
If you have been Labeling your blog posts correctly with few labels, than its not a problem as long as the number of posts are not very high. But as your passion grows and you start writing more and more articles, your labels list will grow and grow and ultimately fill up your side bar.
If you have been following the golden rule of Labeling your Blog post under two categories that is Major and Minor categories, than you are well off and probably you know already what this post is all about. But even than, if you are using Labels as tabs either on the Navigation bar or in the side bar. And if you click on that particular Label, all the post under that particular Label will be shown.
Suppose you have 30 or 40 posts under that Label, imagine how long it will take to load all those pages ?, that is something no blogger not even you want that. There's got to be way to limit the number Posts to be shown under a Label page. In Blogger its quite easy to limit the number posts to be displayed per page, but how to limit the number of Post in a Label Page?
In this article I will show you How you can Limit the number of Posts in a Label Page.
First Log on to your Blogger account , than go to Dashboard > than to Design > Edit HTML
Before you Proceed further please Back up your existing Template to be on the safer side, just in case something goes wrong you can always revert back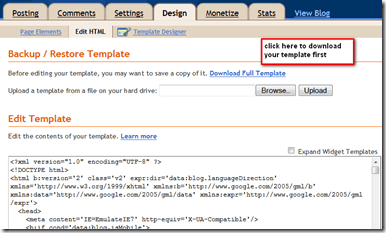 Next on the Edit HTML window on the top right corner check the box "Expand Widget". Now find the following code in your Template. Don't get restless, its quite easy to find. Press CTRL+F  on your keyboard a small search box will be displayed on your extreme top right corner of the window, copy paste the following code there , the code will be highlighted (as shown below) on your template if found.
expr:href='data:label.url'
Depending on your Template you may find this code in more than one instance.Replace them with the following code:
expr:href='data:label.url + "?max-results=5" '
If you are using Menu Tabs which links to your Label pages, than the Label Links you are using probably looks like this :             [ http://YOUR BLOG NAME.blogspot.com/search/label/YOUR LABEL NAME ]
             To limit the number posts shown under a particular Label, we just need to add the following to the link ?max-results=5 . So your Label Link should be like this
                    [ http://YOUR BLOG NAME.blogspot.com/search/label/YOUR LABEL NAME?max-results=5 ]     
   Here the max-result=5 means to show only 5 posts at a time under that particular label link. You can change it to any number you want and than save it than save your template.
I would suggest not to increase the max-results to more than 5 or 6, because more is the number longer it will take to load the pages. One more thing to remember is that the LABEL menu is case sensitive, so you must put it as it appears. otherwise it won't work.   
Labeling and Categorizing your Blog posts is very important not only for your readers to surf through your blog but also for the search engines.
You may like to know How to Label your Blog post the right way. 
Ben Jamir is the Founder and Author of Tipsnfreeware. He is a part time Blogger, sharing his experience and giving a Helping hand to Home users. You will find here the best Windows Tips,Tricks and quality Freeware.