Live chat software for websites,Chatwing Chat Box for Online Consumer Queries and Interactive Chat Rooms.
Customers comprise the 'life' of your business. Without customers, you don't have a business at all. With low influx of customers, however, you won't reach your business goals and this can lead to bankruptcy.
There are many known ways on how you can improve your professional standing with your customers. One of these ways is the proper usage of your website.
Your website should include everything about your product or service.Breakdown of details, product information, pricing, modes of payment, and conditions must be included in your web pages. However, you must not forget the live chat service. To gain a live chat experience, you can rely on the services offered by Chatwing.com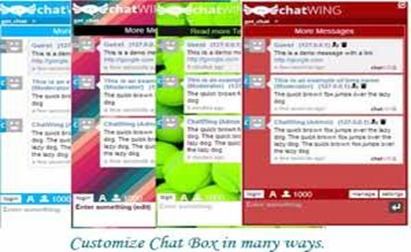 Chatwing features a live chat software for websites,that can help you handle all of your customer's concerns. If they have questions about your products, you can answer them directly in the chatroom.
Aside from that, you can also share important updates in real-time. To gain the advantage offered by Chatwing, you can register in the homepage by inputting your email address and desired password. After that, you can now go to your account dashboard and set up the appearance and functionalities of your live chat box. Chatwing is a free live chat software for websites.
In the dashboard, you are free to create as many chat box as you want. Each chat box can have random designs to suit the preferences of your websites. There are hundreds of background images that you can choose from, including several font styles. You can also add your friends as moderators if they are registered in the Chatwing database.
By installing Chatwing live chat software for websites in your site, all queries can be handled with ease. Your customers will appreciate the live chat effort. If satisfied well, your website will gain enough traffic so that your business can grow in just few weeks or months.
This is a Guest post by Aaron Kong of chatwing.com
Admin comment: Chatwing live chat software for websites, has many exciting features. And the best part is, its being constantly updated adding new features  based on user feedback. So if you have a request, you are welcome to suggest.
Visit the site Chatwing live chat, for more details and FREE download the Live chat software for websites.
Ben Jamir is the Founder and Author of Tipsnfreeware. He is a part time Blogger, sharing his experience and giving a Helping hand to Home users. You will find here the best Windows Tips,Tricks and quality Freeware.