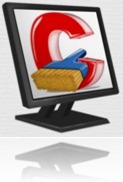 Manage your windows start up programs and speed up windows boot time. Are you sick of all those unwanted programs always starting when your computer boots up? I don't blame you , you should be, because these programs takes up extra memory and slow down your computers boot time.
You can always manage your windows startup programs, by using the command MSCONFIG, it's a built in windows utility, but it requires you to reboot your system to take effect. With Ccleaner you can just disable a program from start up list or even delete it completely from the list itself. And easily manage your windows startup programs, without restarting your system.
Ccleaner is one of the most popular program from Piriform, this utility is best known for its ability to find and clean system junk file, temp file, browser cache, registry cleaner, but it has some other very powerful tools, such as full drive-wiping tool, which most of users either don't know or just overlook it.
How to manage your windows start up programs with Ccleaner: 
Ccleaner is a very easy to use tool even for the beginners. Open Ccleaner and from the extreme left pane thumb nail menu click on the "Tools" button. You will see four other options on the right of it, such as Uninstall, Startup, System restore, and Drive wipe.
Click on the "Startup" button and you will be presented with a list of Programs that start up when windows boot.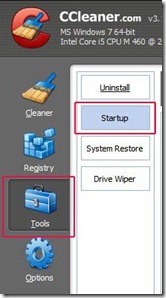 You will be amazed to see the number of Programs that loads when your system boots up. Go through the list of startup program lists carefully and decide which programs need to start up.
Like your Anti virus, Firewall, or any other security related programs you may have installed, and also system required programs related to your graphics card and audio card etc. other than that you will find a lot of programs which gets themselves listed in the startup list. which you can safely disable.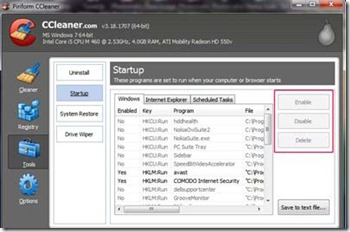 After deciding, you can just click on the program name to select it and on the right pane of the window you can either disable it or even delete the program from the start up list itself. If you need any program (in future) to restart at boot time you can easily re-enable it again.
That's it.Simple and easy to manage your windows start-up programs. See the difference it makes to your system boot time. 
you may also like to read this article on "Clean and optimize your system"
Ben Jamir is the Founder and Author of Tipsnfreeware. He is a part time Blogger, sharing his experience and giving a Helping hand to Home users. You will find here the best Windows Tips,Tricks and quality Freeware.