How to Normalize the sound level of all your MP3 music files. Are you tired of reaching for the volume Knob every time your mp3 player changes to a new song ? MP3 gain is a free software which analyzes and adjusts the volume of MP3 files so that they have the same volume. We all have collections of MP3 music files , collected from various sources. You may have observed some files have normal sound level , some files too loud and some mp3 files volumes too low, making you to adjust the volume level every time your player plays a new song.
MP3 gain is a FREE tool which analyzes and adjusts the MP3 volume, so that they all have the same consistent volume ! cool !! The best thing about this tool is, its quite fast, and it doesn't just do peak normalization like most normalizer software do, but instead the tool does a statistical analysis of the file to determine how loud the file actually sounds to the human ear.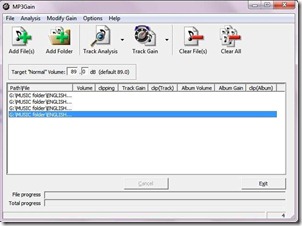 The changes this tool does to your MP3 files are lossless, which means there is no loss of quality because the program adjusts the mp3 files directly, without any decoding or re-encoding, so the quality of your mp3 files is not affected.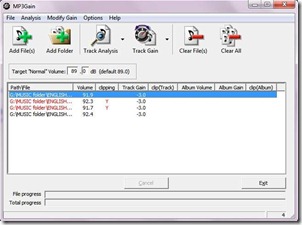 After installing, open the program. The interface is very simple and easy to understand. You can analyze and normalize a single file or load multiple files or even a folder with your mp3 files.
After loading the MP3 files, click on the analyze button in the programs menu, the tool analyzes all your mp3 files and displays the volume level in decibels of all the mp3 files
The default Target "normal" Volume is set to 89.0 dB. If some of the file has higher dB than it will show in RED color as shown above, some of the mp3 files have more than 92dB, which may cause sound distortion (clipping). So its advisable to adjust volume within the limit. You can choose the level of dB for each mp3 files and apply it. The tool instantly analyzes and adjusts the volume of each mp3 files and saves it. That's it, as simple as that.
Enjoy your Music , no more adjusting the volume level.
Download the Latest version of MP3 Gain for  WINDOWS     for     Mac OS X
Did you like this post ? How do you normalize your collection of MP3 songs ?
Posted By: Ben Jamir
---