The Best Free Software you cant afford to miss:
The Best Freeware every home user should have. As you know software's don't come cheap,why pay for software's when you can get free software to do the job for you. Here's a list of most useful Free software you can't afford to miss.  Browse for other free software under various categories.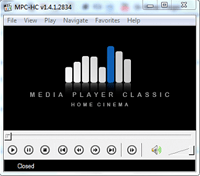 1.MEDIA PLAYER CLASSIC: 

My first choice for media player is the MEDIA PLAYER CLASSIC. A free software.This player is in the field for many years now and most of you must be using it or aware of it. But not utilizing its potentials.

Have you heard about the K-Lite Codec Pack ? It comes bundled with Media Player classic as Extra Video codecs. Its a complete package and contains everything you need to play your movies.

K-Lite Codec is a collection of codecs and all the related tools, required to encode and/or decode (Play) audio and video.This package is designed as a user friendly solution for playing all your movie files. With K-Lite Codec, you will be able to play 99% of all movies that you download from the internet.
There are three versions of the K-Lite Codec Pack: Basic, Standard and Full. For detail information and download of your choice check it here K-Lite Codec.
Features of VLC player: Its Simple ,Powerful and Fast.
Plays everything, Files ,Disks (DVD,CD,VCD,Blu-Ray),Webcams and streams. It can Play most codecs with no codec packs needed: example MPEG-2,H.264, DivX, MPEG-4,WebM,WMV
One thing I have Noticed, if your video file Audio is low than try playing it in VLC player, this player can increase your audio volume considerably.
Free software, no spyware, no Ads or user Tracking. Works on most platform, Windows,Linux,Mac OS X, Unix etc. Some cool Tips about VLC player.
You can download VLC player from here.
3.HJ-SPLIT: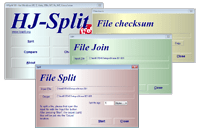 HJ-split is a very popular freeware program ,used for splitting and to recombine files.The program runs on windows,Linux,Mac and other OS.

why should you need to split a file and recombine files ? For example if you have a file of 50 MB size and you want to send it to a friend via e-mail or post it in a news group or want to upload it to share with friends.

It is usually much easier to send/receive, upload/download smaller size files, than to handle the entire file in one go.This becomes more useful when you want to send large files by E-mail and your internet connectivity is slow.

HJ-split is also useful for backups, for example a file of 10GB size can be split in to smaller size which then can be burned to CD's,DVD or copied to USB drives etc. HJ-split for windows and Linux support file sizes of over 100 GB.

You can split the file in to smaller sizes and name it as file 001,file 002,file 003 and so on. These smaller files can than be easily sent via e-mail or uploaded to a server for sharing etc.

The receiver at the other end has to download these files and rejoin with HJ-split. Its that simple.
This is a must have free software, if you regularly sends/shares large files or uploads large files for sharing, or backup large files in DVD by splitting.

You can download HJ-split from here.
Posted By: Ben Jamir
Ben Jamir is the Founder and Author of Tipsnfreeware. He is a part time Blogger, sharing his experience and giving a Helping hand to Home users. You will find here the best Windows Tips,Tricks and quality Freeware.