Offline blogging software, allows you to create, edit, and manage blog post, without having to login to your blog account.
Which means you don't have to be connected to internet to write your blog post. Everything can be done offline and you can see your article exactly as it would appear live. Once you are satisfied, you simply upload and publish your post, roght from your desktop.
Windows Live writer, still dominates as one of the best offline blogging software. Its free from Microsoft. Once you setup WLW with your wordpress website. All you have to do is write your post and publish. As simple as that.
However Microsoft, seem to have stopped updating / supporting windows live writer. The latest version being released in 2012.
Due to constant update of WordPress CMS, Windows live writer fails to detect and download the blog theme. This has caused a lot of frustration among users, me included. I have been using windows live writer for more than two years now.
But after updating wordpress (version 4.3.1) and changing my Blog theme. Windows Live writer can not detect nor download the blog theme correctly. So I had to look for a better alternative to WLW, offline blogging software.
Best alternative to Windows Live writer:
BlogDesk: How to Set up :
Blogdesk is another very popular offline blog editor. Its features comes very close to windows live writer. Like WLW you can compose, write posts, add /edit pictures all offline, spell – checking, tag generation. Once satisfied you can either publish directly or publish as a draft.
BlogDesk is a FREE Blog editor. Simply download and install it on your computer.
How to configure BlogDesk with WordPress site:
After installation launch BlogDesk, from File menu > click on Manage Blogs > Under Manage Blogs click on new. BlogDesk will ask for a name, you can name it any way you want. Click next it will ask for the website address. Enter the exact URL of your Blog.
Click on next. Under weblog system select wordpress [<2.2] if your blog is on wordpress. BlogDesk supports, Movable type Drupal,dasblog and many more weblog system.
Click on next > than next again .Enter your Login name and password for your blog admin dashboard.
Click next > click to Get Blog ID, BlogDesk will automatically fetch your Blog ID. Next click to get categories of your blog.
BlogDesk allows you to test upload a small image to your blog server.During the test a small image will be uploaded to the blog server and downloaded back, which will be displayed as success.
You are almost done, click on next than on the finish button. BlogDesk will download your blog theme and all categories menu, if you have.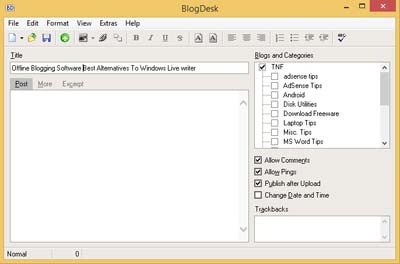 BlogDesk is now all setup for your blog. On the right panel you will see all categories of articles that you have already published. You also get the option "Allow comments" "Allow pings".
You can write and straight way Publish your post BlogDesk itself. But if you prefer, uncheck that option and hit the Publish icon in the menu. BlogDesk will upload a Draft copy only. Which you can Edit in the wordpress editor before publishing.
Download the Latest Version of BlogDesk
There are other Offline Blogging software, worth mentioning here. If you want to try out.
1: Windows Live writer (still the best)
2: BlogJet (Win) not exactly free
3: RocketPost (WIN) not free
4: MacJournal (Mac)
5: MyBlogEdit (Mac)
CONCLUSION:
Windows Live writer is still the best offline blogging software till date. Its also FREE, but Microsoft has stopped updating it. Latest version available as of now is ver.2012. Besides many bloggers on wordpress platform has reported, WLW not able to detect and download the theme. I personally would recommend BlogDesk or BlogJet, as the best alternative to Windows Live writer, as a offline blogging software.
Ben Jamir is the Founder and Author of Tipsnfreeware. He is a part time Blogger, sharing his experience and giving a Helping hand to Home users. You will find here the best Windows Tips,Tricks and quality Freeware.