updated July 2016
How to optimize PC and clean your computer from junk files. Keep system registry clean and run your system at top speed.
Whether its a desktop or a Laptop. Over the time these too ages and needs to be taken care of. 
Installing and uninstalling of programs, copying, transferring files from one partition to another, surfing the net , all these creates a lot of junk files. Junk files in the form of broken shortcuts, temp files,cookies etc etc. As most of the software's we uninstall never clears the registry entry that it makes.
All these factors leads  accumulation of junk files in your hard disk,which takes up your valuable disk space,slows down your system by eating your system resources.
CCleaner is a freeware system optimization, privacy and cleaning tool. With Millions of users worldwide, its one of the best FREE tool to optimize PC.
It removes unused files from your system allowing Windows to run faster and freeing up valuable hard disk space. It also cleans traces of your online activities such as your Internet history. Additionally it contains a fully featured registry cleaner.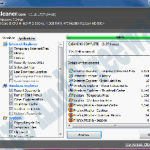 CCleaner has a section to remove start up programs, etc, which I think is a great feature because a lot of unnecessary programs load and run in the background which slows down your PCs performance and load time. 
Just know that this program doesn't do anything you don't tell it to. So make sure you know what you are doing and what you are looking for before you use it. The programme interface is very simple, even a novice can master it.
For users who are new to the program, in addition to browser tracks cleaning, it will clean tracks from other programs, empty your recycle bin, delete temporary files, and quickly scanning for invalid entries before removing them.
CCleaner will also back up your Registry before you hit delete, in case it accidentally removes a crucial component.
Besides these functions Ccleaner also does the following tasks

1. It has a built in Uninstaller, through which you can uninstall your programs.
2. Disable start up programs: When you install a program , some software installs itself in the start up group of programs,which may delay your system Boot time considerably.Under the TOOLS menu you will get a option to disable your start up programs. If you don't require a certain program to run in the background you can easily disable that and Speed up your PC.

Its a freeware, download the latest version of  CCLEANER FROM HERE
Ben Jamir is the Founder and Author of Tipsnfreeware. He is a part time Blogger, sharing his experience and giving a Helping hand to Home users. You will find here the best Windows Tips,Tricks and quality Freeware.