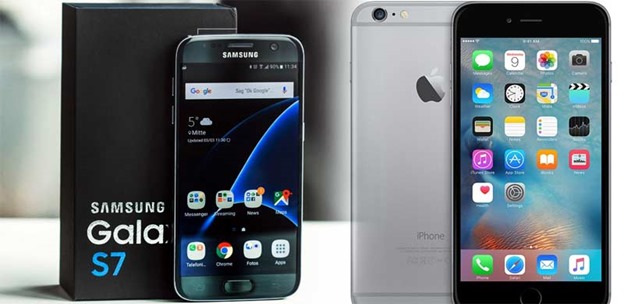 From design to display, Photo to Video, Power to Price Tag. We put these two Smartphones  head to head to compare and how they fare.
Samsung Galaxy S7 vs iPhone 6S : Design
Considering both these phones are best looking handsets, as far as design both the phones have minimal design changes from their immediate predecessors.
Samsung Galaxy S7 : Has a metal alloy, with glass front and back. About 7.9 mm thick and weighs 152g. approximately. Available in Black / Gold colors.
iPhone 6S: Built on series 7000 anodized aluminum back. About 7.1mm thick and weighs 143g. Available in space gray/Silver/Gold/Rose Gold.
We feel Galaxy S6 was the prettiest with luxurious mix of glass and metal, which made it look and feel premium.
The iPhone 6S design doesn't differ much from its predecessor, but it remains one of the best on the market and more pleasant phone for day to day use.
For design picking between this two is difficult. Samsung Galaxy S7 added a few mm in thickness by adding a slight curvature to the back, making it much more comfortable to hold and less prone to slipping out of your hand. Which also means its easier to pick up Samsung Galaxy S7 from a flat surface.
Samsung Galaxy S7 does look more gorgeous and is impressive.
Samsung Galaxy S7 wins over iPhone 6S in this area.
See Also 8 Cool Things you can do with your old Smartphone
Samsung Galaxy S7 vs iPhone 6S : Display
Samsung Galaxy S7: Screen 5.1 inch Super AMOLED, 2,560 x 577 ppi
iPhone 6S : Screen 4.7 inch IPS LCD, 1334 x 750, 326 ppi, 3D Touch.
Samsung Galaxy S7 display is radically sharper than the iPhone 6S. Thanks to super AMOLED tech. It has more vibrant and sharp display than iPhone 6S.
The Samsung Galaxy S7 does not feature iPhone's 3D touch tech. 3D touch is a nifty feature that lets the iPhone screen detect varying amounts of pressure. This feature can be used to enact a variety of tasks, like previewing emails and websites.
Considering the sharper display of Samsung Galaxy S7, both the phones score is at level. 
Samsung Galaxy S7 vs iPhone 6S : Performance.
Samsung Galaxy S7: Exynos 8890 octa-core/Snapdragon 820 quad-core CPU. Adreno 530/Mali-T880 MP12 GPU with 4GB RAM
iPhone 6S: Apple A9 64-bit dual-core CPU, 2GB RAM
In most territories, Samsung Galaxy S7 is powered by its own Exynos 8890 processor. But whichever chip you get, it offers a much better performance than Galaxy S6. Besides the Galaxy S7 also gets a memory upgrade to a staggering 4GB RAM. This gives Galaxy S7 a performance boost specially in games.
iPhone on the other hand has the dual core A9 chip and 2GB of RAM. This combo doesn't match Galaxy S7 power in performance.
See Also Why iPhone or iPad Says This Cable or Accessory Is Not Certified
Advantage : Samsung Galaxy S7 wins with hands down
Samsung Galaxy S7: CAMERA
 Main Back Camera 12-megapixel, phase detection, Dual Pixels, OIS, f/1.7 lens, 1/2.6″ sensor, 1.4 µm pixel, 4K video. Front 5-megapixel.
iPhone 6S: Main Back camera 12-megapixel, f/2.2 aperture, dual LED flash, 4K video recording. Front 5-megapixel.
We found the iPhones camera Automatic Mode as one of the best on a smartphone. Picture taking is great, without having to worry about complex settings. Only drawback is lack of OIS (optical image stabilization), and with its lower f/2.2 aperture picture in low light is not up to mark.
Samsung Galaxy S7 on the other hand employs a number of techniques, boosting its performance.
Samsung Galaxy S7 outperforms iPhone 6S in this also.
Samsung Galaxy S7 vs iPhone 6S : Storage  
Samsung Galaxy S7 : 32GB, micro SD
iPhone 6S: 16GB/ 64GB/ 128GB
Comparatively iPhone 6S is available with larger internal space, so a win for iPhone right ? Not quite
Samsung Galaxy entry level 16GB space is pretty hopeless, as its completely inadequate for modern day phone.
However Samsung Galaxy allows you to bolster storage space with microSD slot. This effectively turns any inserted microSD as part of the core system storage. But you can shift photos, videos,and also apps to the microSD.
Samsung Galaxy S7 vs iPhone 6S: SOFTWARE
Samsung Galaxy S7: Android 6.0.1 Marshmallow, TouchWiz UI
iPhone 6S: iOS 9.3
Samsung has some nifty additions such as new game Launcher that organizes your games and also lets you record footage of your exploits.
Apple's closed management of iOS ensures device owners are always able to get software updates. It has a much cleaner, smoother and more consistent experience than Samsung can achieve with TouchWiz on the S7.
On the other hand Samsung managed to fix the bloatware issue on the Galaxy S7 with the Android Marshmallow version.
From Software perspective the iPhone 6S scores over Samsung Galaxy S7.
Samsung Galaxy S7 vs iPhone 6S :  PRICING
Samsung Galaxy S7 price in India INR 48900
Apple's iPhone 6S price starts from INR 48499 to INR 69949
Note: The Entry level iPhone 6S comes with 16GB of storage, with lack of of expansion potential. Samsung Galaxy S7 on the other hand starts with a reasonable 32GB of storage, with microSD expansion slot. The higher model of iPhone 6S comes with 64GB storage space but with a hefty price tag.
Our Verdict:
The winner Samsung Galaxy S7…..Excels in design, performance, and excellent Camera. Samsung Galaxy S7 features a much better display, more capable processor, has twice the memory. iPhone's smooth touch performance is a point to note, but in most other respects we give our nod to Samsung Galaxy S7.. the Winner.
Disclaimer: This is purely our TNF assessment and opinion and is not a paid review.
Ben Jamir is the Founder and Author of Tipsnfreeware. He is a part time Blogger, sharing his experience and giving a Helping hand to Home users. You will find here the best Windows Tips,Tricks and quality Freeware.