How would it be like if you could send SMS to anywhere in the world ! that too for FREE ? Yes its possible ! now you can send SMS to anywhere in the world for free.
To send Free SMS just go to This site.


This is the Home page. Click on "Send Free SMS" tab on the menu. You will get this window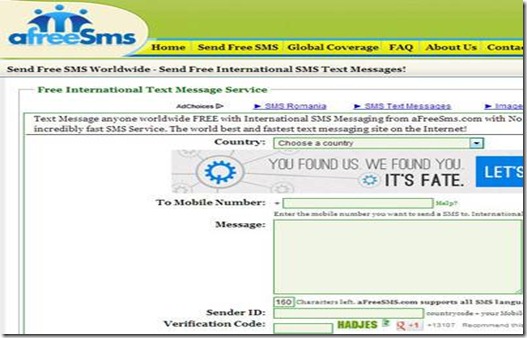 Here, choose the country from the drop down menu. Once you choose the country, the country code is automatically shown. Now just enter the Phone number. Write your message in the message box. Your message has to be minimum 20 character's long, and no longer than 160 characters long. Below that you will be shown a verification captcha code. Fill it in and click on the send button.
It takes just a few seconds for the message to be sent. You will see this confirmation message, that your message has been sent successfully.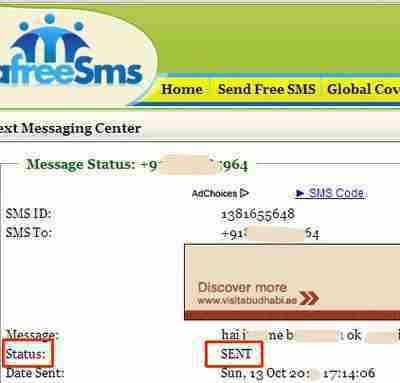 Call it Good or Bad the receiver of your SMS will not get your mobile number. Instead the receiver will get this information " UR friend sent a txt via 24sms.net, donot reply directly…" below that will be the actual message that you sent.
The site AFreeSMS.com is an International Free SMS Provider (Free SMS Service) which allows you to send Free SMS to anywhere in the world. There is no limit, you can send Unlimited SMS per day.
This service supports almost all countries. To see the list of all countries, click the Global Coverage from Top Links.
As long as you are on a computer or mobile phone with access to the internet, you can send free SMS to anywhere in the world from any destination.
Try it yourself. Just don't forget to read the FAQs for their terms of service, which is very reasonable. Enjoy this free service and send Free SMS to anywhere in the world.
Posted By: Ben Jamir
Ben Jamir is the Founder and Author of Tipsnfreeware. He is a part time Blogger, sharing his experience and giving a Helping hand to Home users. You will find here the best Windows Tips,Tricks and quality Freeware.